The Sweeping Texas Abortion Ban That Took Effect Today Is Plainly Inconsistent With SCOTUS Precedents
Because the Supreme Court so far has not intervened, post-heartbeat abortions are now illegal in the Lone Star State.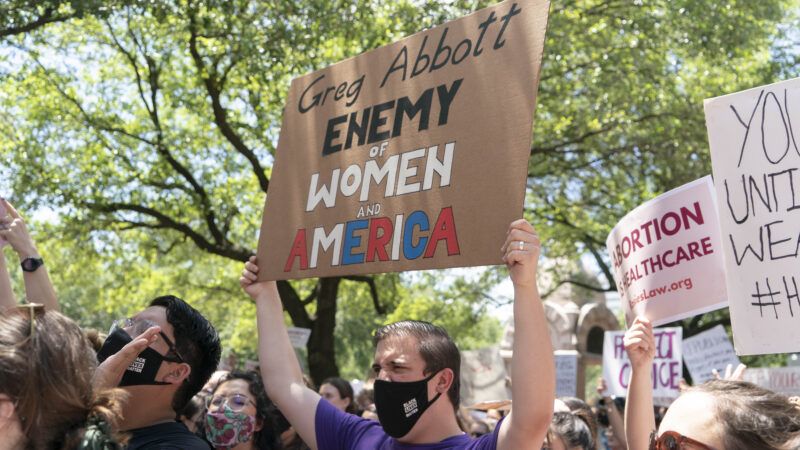 (Bob Daemmrich/Zuma Press/Newscom)
Because the Supreme Court has not intervened yet, a Texas law that purports to ban the vast majority of abortions in that state took effect today. S.B. 8, which Gov. Greg Abbott signed into law on May 19, requires physicians to check for cardiac activity with a sonogram prior to an abortion, and it says "a physician may not knowingly perform or induce an abortion" if he detects "a fetal heartbeat." In an effort to frustrate constitutional challenges, the law bars state or local officials from enforcing the ban, instead authorizing "any person" to sue physicians who perform post-heartbeat abortions, along with anyone who "knowingly engages in conduct that aids or abets" such procedures.
Last week, U.S. District Judge Robert Pitman nevertheless declined to dismiss a July 13 lawsuit challenging S.B. 8. In that case, Whole Woman's Health v. Jackson, abortion providers and abortion rights advocates sued a Smith County judge, the clerk of that court, state medical regulators, Texas Attorney General Ken Paxton, and Mark Lee Dickson, a pro-life activist who "has expressed his intent to bring civil enforcement actions as a private citizen under S.B. 8." The plaintiffs argued that the defendants would all play a role in enforcing the statute, either by bringing the lawsuits it authorizes, adjudicating them, taking administrative action against medical professionals accused of violating S.B. 8, or pursuing civil penalties under the Texas Medical Practice Act triggered by the new abortion restrictions.
Pitman agreed with that logic, and he scheduled a hearing for August 30 to consider a preliminary injunction. On Friday, after the defendants appealed Pitman's decision, he vacated that hearing with respect to the state defendants, who claim sovereign immunity, but not with respect to Dickson, a private citizen. That same day, the U.S. Court of Appeals for the 5th Circuit imposed a "temporary administrative stay" on the district court proceedings, and on Sunday it rejected the plaintiffs' motion to lift that stay, along with their motion for an emergency injunction.
The next day, the plaintiffs asked the Supreme Court to intervene by issuing an emergency injunction or by lifting the 5th Circuit's stay. Because the Court has not responded yet, there was nothing to stop S.B. 8 from taking effect today.
The law's reach is so broad that it clearly violates the Court's abortion precedents. According to the Court's 1992 decision in Planned Parenthood v. Casey, the government may not impose an "undue burden" on the right to abortion, which happens when its regulations have "the purpose or effect of placing a substantial obstacle in the path of a woman seeking an abortion of a nonviable fetus." A fetal heartbeat can be detected beginning around six weeks into a pregnancy, long before "viability," before most abortions are performed, and before many women even realize they are pregnant. The plaintiffs estimated that S.B. 8 would affect "at least 85% of Texas abortion patients."
The law makes an exception for "a medical emergency" but not for pregnancies resulting from rape or incest. Nor does it allow post-heartbeat abortions when the fetus has a "defect incompatible with life after birth," Pitman noted. In those respects, S.B. 8 is even stricter than some state "trigger" laws—abortion bans that are designed to take effect should the Supreme Court decide that the Constitution does not protect a right to terminate a pregnancy after all. Utah's trigger law, for example, includes exceptions for cases involving rape, incest, or a fetus with a "uniformly diagnosable" and "uniformly lethal" defect or a "severe brain abnormality" resulting in a "mentally vegetative state."
S.B. 8 also creates a very disadvantageous situation for defendants in the lawsuits it authorizes. "While empowering private enforcers," Pitman noted in his decision allowing the case to proceed, "S.B. 8 limits the defenses available to defendants and subjects them to a fee-shifting regime skewed in favor of claimants."
While the law says women who seek or obtain abortions cannot be sued, potential defendants include a wide range of ancillary actors in addition to people directly involved in the procedure. The law makes it easy to sue people and burdensome to defend against such claims, threatening defendants with "statutory damages" of at least $10,000 per abortion as well as legal fees they probably will never recover even if they win.
S.B. 8 says someone can be sued not only if he performs or assists an abortion but also if he "intends" to do so. It does not define "aiding or abetting" a prohibited abortion, except to say that it includes "paying for or reimbursing the costs of an abortion through insurance or otherwise." But on its face, that provision would cover anyone who assisted a woman seeking an abortion, whether by helping to pay for the procedure, taking her to the clinic, or watching her kids while she was there. One exception: The law does not apply to "speech or conduct protected by the First Amendment," so merely advising a woman to seek an abortion presumably would not be actionable.
The law says someone can be sued under the "aiding and abetting" provision "regardless of whether the person knew or should have known" that the abortion was illegal. At trial, an alleged accomplice can raise an "affirmative defense" that he "reasonably believed, after conducting a reasonable investigation," that the abortion was legal, which he has to prove by a preponderance of the evidence.
What does not count as an affirmative defense? Defendants cannot argue that they did not know about the law or did not understand it. They cannot cite their belief that the law is unconstitutional. They cannot rely on any court ruling to that effect if it was subsequently overturned, even if that did not happen until after the conduct for which they were sued. They cannot rely on state or federal court decisions that are "not binding" in the jurisdiction where the lawsuit is filed. They cannot "assert the rights of women seeking an abortion" unless that is consistent with "the tests for third-party standing" established by the U.S. Supreme Court or the Court "holds that the courts of this state must confer standing."
Even defendants who ultimately prevail will suffer a financial penalty, since they will have to cover the cost of their defense. "Notwithstanding any other law," S.B. 8 says, "a court may not award costs or attorney's fees…to a defendant in an action brought under this section." By contrast, plaintiffs who win can expect to receive not just $10,000 in "statutory damages" but also compensation for their "costs and attorney's fees," which S.B. 8 says "the court shall award."
As Pitman notes, this "novel fee-shifting regime" extends beyond lawsuits brought under S.B. 8. It also covers "any challenges to the law, including in the instant case," as well as challenges to any Texas law that "regulates or restricts abortion." In those cases, the rule likewise disfavors people who object to the law. Under S.B. 8, Pitman says, plaintiffs who challenge abortion laws "may be liable for attorney's fees unless they prevail on all of their initial claims, regardless of the ultimate outcome of the litigation."
In their application to the Supreme Court, the organizations challenging S.B. 8 warned that it would "immediately and catastrophically reduce abortion access in Texas," even if enforcement is officially limited to private civil actions. "At bottom," they say, "the question in this case is whether—by outsourcing to private individuals the authority to enforce an unconstitutional prohibition—Texas can adopt a law that allows it to 'do precisely that which the [Constitution] forbids.'"
So far S.B. 8 is working as intended: Facing potentially ruinous liability, abortion clinics in Texas have dramatically curtailed their services. Whole Woman's Health, the lead plaintiff challenging the law, says it is now offering abortions at its clinics in McAllen, McKinney, Austin, and Fort Worth only "if no embryonic or fetal cardiac activity is detected in the sonogram." The American Civil Liberties Union lamented that "access to almost all abortion has just been cut off for millions of people," saying "the impact will be immediate and devastating."
All of this is welcome news, of course, for Americans who view abortion as tantamount to murder. But that is not the view that the Supreme Court has taken for half a century. In Roe v. Wade, it held that the Constitution protects a right to abortion, and it has repeatedly affirmed that basic conclusion since 1973. A case that the Court will hear next term, involving a Mississippi law that bans abortions after 15 weeks (vs. about six weeks under S.B. 8), will give the justices an opportunity to overturn or (more likely) scale back Roe and its progeny. But in the meantime, S.B. 8 is plainly inconsistent with what the Court has said about constitutional limits on abortion regulations.