Abortion Ban To Take Effect in Texas on Wednesday
Plus: Kids got more obese during the pandemic, how Section 230 protects gun rights, and more...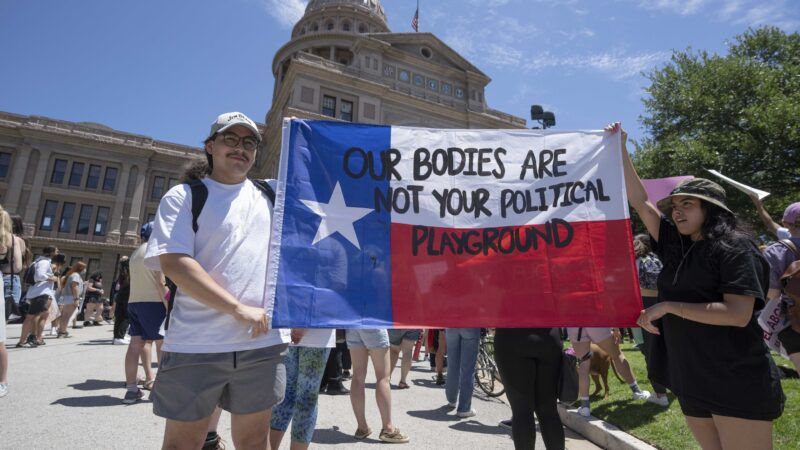 (Bob Daemmrich/ZUMAPRESS/Newscom)
Appeals court rejects emergency motion to block Texas law. A measure restricting most abortions in the state of Texas is set to take effect on Wednesday.
Passed in May, the law makes it illegal to perform an abortion once fetal cardiac activity is detected. That starts six weeks into pregnancy, and about two weeks after a woman can tell she is pregnant.
What makes the measure (Senate Bill 8) more novel—and extreme—is that it also lets anyone (even people outside the state) sue anyone they think has violated the law by performing a prohibited abortion or aiding and abetting the provision of an illegal abortion. Among other things, aiding and abetting here includes "paying for or reimbursing the costs of an abortion through insurance or otherwise," the law states.

A group of more than 20 abortion providers represented by the Center for Reproductive Rights challenged the law, filing a lawsuit against it in federal court in July. The law "allows complete strangers, anti-abortion activists, to sue and interfere with the patient's decision. Those people may try to essentially hijack the courts for their ideological agenda," said Center for Reproductive Rights Senior Counsel Marc Hearron at the time. "If this is not blocked, if this is successful, it would set a truly dangerous precedent, because states could eviscerate their own citizens' federal constitutional rights by creating a private lawsuit to do what their own officials couldn't do."
The law is set to take effect on September 1.
On Saturday, abortion providers asked the U.S. Court of Appeals for the 5th Circuit to intervene, filing an emergency motion "essentially asking it to send the case back to district court or for the appellate court itself to issue a stay that would temporarily block the law's enforcement," reports The Texas Tribune. "The 5th Circuit denied the emergency motions Sunday afternoon."
Another lawsuit against the bill has been filed in Texas state court.
---
FREE MINDS
A new study suggests the pandemic has been associated with significant weight gain among American kids. Published in The Journal of the American Medical Association, and based on data from Kaiser Permanente Southern California electronic health records, the research concluded that  "youths gained more weight during the COVID-19 pandemic than before the pandemic."
New Study: "Overweight or obesity increased among 5- through 11-year-olds from 36.2% to 45.7% during the pandemic"

— Corey A. DeAngelis (@DeAngelisCorey) August 30, 2021
"The greatest change in the distance from the median BMI for age occurred among 5- through 11-year-olds," note the researchers. "Overweight or obesity increased among 5- through 11-year-olds from 36.2% to 45.7% during the pandemic, an absolute increase of 8.7% and relative increase of 23.8% compared with the reference period." Among 12–15-year-olds, the absolute increase in the percentage of overweight or obese children was 5.2 percent and the relative increase was 13.4 percent. Among 16- and 17-year-olds, it was 3.1 percent and 8.3 percent. "Most of the increase among youths aged 5 through 11 years and 12 through 15 years was due to an increase in obesity," the study says.
---
FREE MARKETS
Section 230 protects Second Amendment rights. "Debate surrounding Section 230 of the Communications Decency Act of 1996 most often involves social media. But what about gun sales?" asks Gabriella Hoffman at the Washington Examiner:
The question is worth asking because if Senate Democrats get their way, they'll weaponize S230 reform to target online gun marketplaces. Conservatives urging repeal of Section 230 are playing right into their hands.

Section 230 enumerates in its "civil liability" clause that providers or users of an "interactive computer service" aren't liable for third-party content posted there. Just as Facebook and Twitter aren't liable for their users' slander or misinformation, sites such as Armslist.com (the gun owner's Craigslist) aren't liable for illegal gun sales.

That doesn't sit well with Sen. Dianne Feinstein. She recently introduced The Accountability for Online Firearms Marketplaces Act. If passed, her bill would "clarify" Section 230 to strip online firearms marketplaces, specifically Armslist.com, of immunity protections. "It's time to start holding accountable those who turn a blind eye to illegal gun sales on their platforms," Feinstein said.
---
QUICK HITS
• The U.S. is back up to an average of more than 100,000 daily hospitalizations from COVID-19. "That average, calculated over the last seven days, is higher than in any previous surge except last winter's, before most Americans were eligible to get vaccinated," according to The New York Times. And "deaths have risen to an average of more than 1,000 a day for the first time since March."
• "In what many say is the first ruling of its kind, a divorced Pilsen mother has had her child visitation revoked by a Cook County judge because she is not vaccinated against COVID-19," reports the Chicago Sun-Times.
• After reopening to American travelers in June, European Union countries are poised to again impose travel restrictions on people from the U.S.
• Immigration enforcement authorities are targeting protesters and activists.
• These are the most overvalued housing markets in the U.S.