The Justice Dept.'s Costly Reform Agreement with Baltimore Police Explains Basic Appropriate Behavior
Are they 'fixing' the department or just rebuilding it from scratch?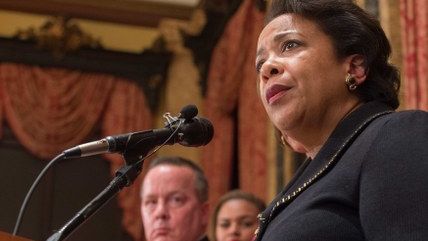 (Bryan Woolston/ZUMA Press/Newscom)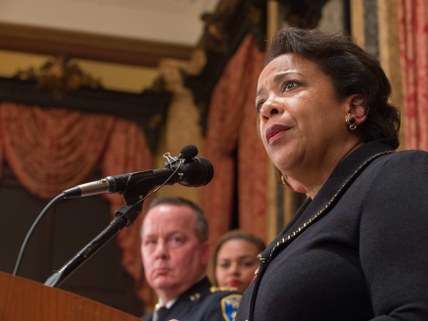 There's something to be said that the Department of Justice's newly released consent agreement with the City of Baltimore's Police Department seems to need to explain that officers should not just be total jerkholes when talking to citizens.
Really, there's a small section in the 227-page reform plan that explains how they expect police to behave when speaking to average Joes who are not being detained and are not being suspected of a crime:
The Parties recognize that Voluntary Contacts between police officers and the public are an important component of effective community policing. BPD will encourage officers to speak with members of the public in a friendly, professional manner to enhance communication, trust, and understanding. These Voluntary Contacts will underscore BPD's commitment to community-oriented policing and will also help officers build relationships with community members that may later assist criminal investigations.
The contents of the agreement were released this morning after five months of negotiation between Baltimore and the Department of Justice. As I predicted yesterday, huge chunks of the report are about calling for more training and reporting and record-keeping. But to my surprise, there's actually an entire section of the report dealing with "misconduct investigations and discipline." It takes up about 35 pages of the report.
Before that is page after page after page explaining basic constitutional policing. The agreement includes things like requiring police officers have reasonable suspicion to detain and search people, and not engage in warrantless searches; only arrest people for suspicions of crimes (no really, this is explained); stop using "boilerplate" language in reports to explain reasons behind stops and searches; not engage in racial profiling; not use information they know is not true to justify searches or arrests; attempt to de-escalate encounters before using force; not use force to punish people for resisting or attempting to flee (what the rest of us refer to as "police brutality"); don't use Tasers on elderly people, pregnant women, and small children, or just to stop people from fleeing; use seatbelts or restraining devices on people being transported (remember this is all partly due to the Freddie Gray case); respect the rights of citizens to both criticize police and observe and record public police behavior without retaliation; not retaliate against people who file complaints against police conduct; and so many, many, many other things. A read through the consent decree feels like the documentation of how most citizens expect their police to behave already.
The section on handling police misconduct complaints is so long because, like everything else in the report, it documents every single step of expectations and demands training, and it reads almost like they're building a police department from scratch (which I suspect the Justice Department imagines in their heads exactly that). It is heavily focused on processes and transparency. Neither of these are bad things, but the manipulation of processes to protect bad cops is a consistent problem. "We followed procedures—therefore everything is fine."
A couple of interesting things to point out in connection with managing police conduct: The agreement calls for checking the disciplinary and certification background of potential new hires, including consulting with the National Decertification Index. Anthony Fisher wrote about this database in September and how it helps stop hires of officers with histories of misconduct (and how it has gaps). There's also this vague but important agreement: "BPD will eliminate policies that authorize the expungement of records where an employee accepts discipline."
Implementing all this mandated training and documentation system is not going to be cheap. But it's not clear how much it will cost. According to The Baltimore Sun, the city's spending committee unanimously approved the spending money to implement reforms without knowing the costs. The agreement calls for a monitor who may be paid up to nearly $1.5 million annually. There's a lot of money to be made from reforming a police department, and many, many people are going to have their hands in the till. The index at the end of the report compiles all the new training requirements mentioned in the decree. There are 23 separate new training demands.
Skim through the full consent decree here.