Oklahoma and Nebraska Try to Revive Their Challenge to Legal Pot in Colorado
The two states want to join appeals filed by landowners and sheriffs.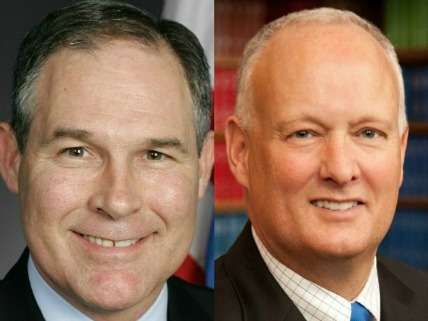 Having failed to interest the U.S. Supreme Court in their challenge to marijuana legalization in Colorado, Oklahoma and Nebraska are trying to join a couple of other anti-pot lawsuits that are now before a federal appeals court. This month Oklahoma Attorney General Scott Pruitt and Nebraska Attorney General Doug Peterson asked the U.S. Court of Appeals for the 10th Circuit to let them intervene in cases brought by Pueblo County landowners and Colorado sheriffs.
The landowners, Michael and Hope Reilly, filed suit under the Racketeer Influenced and Corrupt Organizations (RICO) Act in February 2015, arguing that a marijuana cultivation facility that Rocky Mountain Organics planned to open on a parcel near their horse ranch in Rye will spoil the view, ruin their peace of mind, and bring undesirable odors and visitors. Last January, U.S. District Judge Robert Blackburn ruled that the Reillys could not use RICO to sue Gov. John Hickenlooper or the other state and local officials they named in their complaint. That decision left in place the couple's claims against Rocky Mountain Organics, the company's insurer, its landlords, and the contractors who are building the cultivation facility and piping water to it.
Six Colorado sheriffs, joined by four sheriffs from Nebraska and Kansas, sued Hickenlooper in March 2015, arguing that Amendment 64, which legalized marijuana in Colorado, violates the Controlled Substances Act (CSA) and therefore the Supremacy Clause (which makes congressional legislation "the supreme law of the land"). Last February, U.S. District Judge Wiley Daniel dismissed the lawsuit, ruling that neither the CSA, the Supremacy Clause, nor the international drug control treaties cited by the sheriffs authorize private causes of action.
In a lawsuit that the Supreme Court last month declined to hear, Pruitt and Peterson made arguments similar to the sheriffs', claiming that Colorado's regulation of marijuana suppliers violates federal law and harms their states by increasing opportunities for smuggling. Now they are trying to vindicate the interests they described in their lawsuit by joining the appeals filed by the sheriffs and the Reillys. "Because the people of Nebraska and Oklahoma have determined that marijuana is harmful and should be illegal," they say in their appeals court brief, "Nebraska and Oklahoma have a duty to protect their citizens from the continuing harms resulting from Colorado's illegal activities." They argue that there is "an imperative reason for intervention," because otherwise the 10th Circuit "may effectively decide Nebraska and Oklahoma's claim before it has the chance of being litigated in front of any court."