76-Year-Old Asks SCOTUS to Overturn Life Sentence for 37 Pot Plants
Lee Carroll Brooker, a victim of Alabama's habitual offender law, argues that his punishment violates the Eighth Amendment.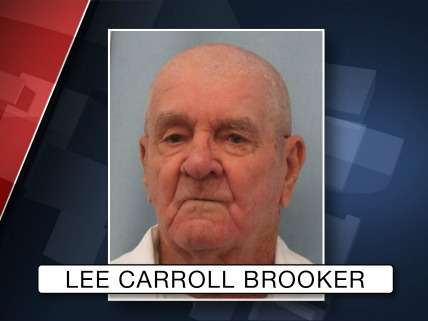 On Friday the Supreme Court considered whether it should hear an appeal by a 76-year-old Alabama man who is serving a prison sentence of life without parole for growing a few dozen marijuana plants that he says were intended for his own medical use. Lee Carroll Brooker, a disabled veteran who suffers from chronic pain, got that jaw-dropping penalty in 2014 thanks to Alabama's Habitual Felony Offender Act, which imposes a mandatory life-without-parole sentence on anyone with three prior felony convictions, including one or more Class A felonies, who is convicted of another Class A felony. Brooker's prior convictions stemmed from a series of armed robberies he committed in Florida two decades before police in Dothan, Alabama, found his marijuana garden—crimes for which he served 10 years in prison.
Brooker's case is unusual but by no means unique. In 2013 the American Civil Liberties Union identified thousands of nonviolent offenders serving sentences of life without parole in American prisons. In every case the explanation was a habitual offender law like Alabama's.
The draconian sentence is not the only striking aspect of Brooker's case. A police officer visited the house that Brooker shared with his son, Darren, in 2011, supposedly looking for stolen bicycles. The officer did not have a warrant, but he said he had written permission to search the house from Darren Brooker, the owner, and later he testified that the elder Brooker also consented to the search—a crucial point, since the Supreme Court has said a resident who is present at the time of a warrantless search has a Fourth Amendment right to turn police away even if his roommate has consented. Lee Brooker denied that he gave permission for the search, and it certainly seems odd that he would knowing what police would find. But the trial judge, ruling on a motion to exclude the evidence from the search, accepted the cop's account.
The way police measured the amount of marijuana Brooker possessed—weighing all of the plant material, including nonpsychoactive stalks and leaves—is also questionable, and it may have made a crucial difference, since the official weight of the "marijuana" was 2.8 pounds, about half a pound more than the cutoff for charging him with trafficking, a felony, as opposed to mere possession, a misdemeanor. If police had been more selective when they weighed the plants, the maximum penalty would have been a year in jail.
Even if police had thrown everything on the scale, Brooker could have received a much lighter penalty if prosecutors had not chosen to introduce evidence of his Florida convictions during the sentencing phase. Darren Brooker was convicted of marijuana trafficking based on the same garden in 2013, but he received a suspended five-year sentence, which will be lifted after he satisfactorily completes five years of probation. That the same crime in the same location would be punished with life in prison for one man and no time behind bars for another seems utterly arbitrary.
Even Roy Moore, the chief justice of the Alabama Supreme Court and a hardline conservative who is not known for his bleeding heart, was appalled by Brooker's life sentence. Although the court upheld the penalty in 2015, Moore wrote a concurring opinion highlighting its disproportionality:
I write separately because I believe Brooker's sentence is excessive and unjustified. In imposing the sentence, the judge stated: "[I]f the Court could sentence you to a term that is less than life without parole, I would. However, the law is very specific as to the sentence in this case. There is no discretion by the Court." Under circumstances like those of Brooker's arrest and conviction, a trial court should have the discretion to impose a less severe sentence than life imprisonment without the possibility of parole….

Brooker's sentence of life imprisonment without the possibility of parole for a nonviolent, drug-related crime reveals grave flaws in our statutory sentencing scheme. I urge the legislature to revisit that statutory sentencing scheme to determine whether it serves an appropriate purpose.
The question for the U.S. Supreme Court, should it decide to take up the case, is whether Brooker's life sentence is so "grossly disproportionate" that it violates the Eighth Amendment's ban on "cruel and unusual punishments." In an editorial last week, The New York Times argued that "Mr. Brooker's punishment for marijuana possession is the definition of cruel and unusual," since "he received a punishment typically reserved for the most violent crimes, like murder, rape and terrorism, even though he poses no threat to society." It noted that "the trial court even allowed him to remain free while he awaited his sentencing."
In a brief that Families Against Mandatory Minimums (FAMM) filed on Brooker's behalf, the group notes that "the elimination of all judicial discretion [in sentencing] can lead to arbitrary, extreme, and unfair punishments" that "undermin[e] faith in the judicial system." It argues that "mandatory minimums impose substantial costs for little deterrent benefit," because research indicates that the likelihood of punishment matters more than its severity. "If the Court does not define the constitutional limits on severe sentences," FAMM warns, "States without a legislative interest in reform may continue to impose harsh, irrational, and unconstitutional sentences."
Update: The Supreme Court has declined to hear Brooker's appeal.