The NY Primary, Minimum Wage, Fracking, Chicago's Allegedy Racist Cops, and the Speech Police: The Fifth Column Podcast Returns
Matt Welch, Kmele Foster and Michael Moynihan try to figure out who's the real New Yorker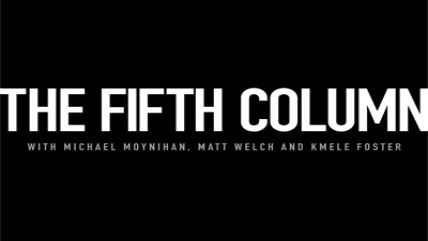 As reader/listeners will recall from Episodes 1 and 2, there's a new podcast in town called The Fifth Column, featuring Kmele Foster, Michael C. Moynihan and myself arguing genially with each other about politics, culture, race, and so forth. You can listen to Episode 3 right here:
Our guest for the first half hour is the great Brooklyn journalist Harry Siegel, who helps navigate the tricky New York politics of this Tuesday's surprisingly contested primary for both major political parties. Other topics include the insanity of $15 minimum wage politics, the insanity of Democrats' anti-fracking position, and how Sanders is yanking Clinton to the left on all his worst issues, not his best. Kmele Foster contests the widely received wisdom that Chicago cops are obviously racist, Moynihan rips the head off of the West Hollywood mayor who seeks to ban Donald Trump from speaking in her town, and some poo is flung in the general direction of Bill Nye the Lock-'em-up-Because-Science Guy.
Please subscribe to The Fifth Column on iTunes, where you can see such helpful listener reviews as this:
This podcast has the tone of irreverence you'll find in any good Reason article, and the conversational quality of The Independents if they had been given the freedom to say exactly what they were thinking on that program. I'm looking forward to more episodes.

*

Really smart guys saying really smart stuff without being pretentious. Like some of the best parts of Vice News, The Independents, and Red Eye (minus the houseboys) mixed together. Give a listen, folks--it's an hour well-spent!