Jury Acquits Woman Arrested for Protecting Her Dog From a Cop
Tiffanie Hupp was charged with obstructing an officer after standing between a state trooper and the dog he wanted to kill.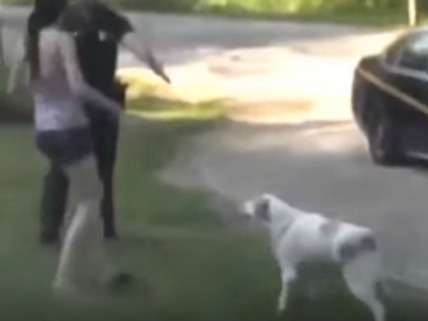 Last week a West Virginia woman who stood between her dog and a state trooper intent on killing him was acquitted of obstructing an officer by a jury in Wood County. It took jurors just half an hour to acquit 23-year-old Tiffanie Hupp after they watched the video of the incident that Hupp's husband, Ryan, shot with his cellphone.
Trooper Seth Cook came to the Hupps' house on May 9, 2015, in response to a dispute between a neighbor and Ryan's stepfather. There Cook encountered Buddy, a Labrador-husky mix who was chained outside the house. The dog, whom Hupp describes as "a big baby," ran toward Cook, barking, and Cook backed up. Even though the dog had reached the end of his chain and Cook was not in any danger, he drew his pistol. "I immediately thought, 'I don't want him to get shot,'" Hupp, who was in the yard with her 3-year-old son, told the Charleston Gazette-Mail. The video shows her stepping in front of Cook, at which point he grabs her, throws her to the ground, picks her up, leans her against his cruiser, and handcuffs her.
"The officer alleged in the complaint that she raised her arm," Hupp's lawyer, David Schles, told the Gazette-Mail, "but we did stop-frame [of the video] for the jury, and it showed she was stationary, her arms at her side….All she said was 'Don't do that,' and [Cook] grabbed her by the bicep and spun her around, and she ends up falling down."
After he heard about the case, Schles contacted Hupp and offered to represent her for free. "I thought it was outrageous, this girl is being charged for standing in her yard doing nothing but saying, 'Don't shoot my dog,'" he said. According to Photography Is Not a Crime (PINAC), Cook "testified that he was not afraid of the dog, but was following training that required him to kill all dogs that approach him, even if it was chained and wagging its tail as Buddy was doing in this case."
Hupp told PINAC her case hinged on her husband's video, which they did not have for weeks after the incident because Cook confiscated the phone, which he was unable to access because it was protected by a password. "Without that video, it's just my word against a state trooper," she said. "Nobody is going to believe my word over law enforcement."