Jury Acquits the Only Cop Who Faced Charges After a Drug Raid Maimed a Toddler
Nikki Autry claimed she lied on a search warrant affidavit by mistake.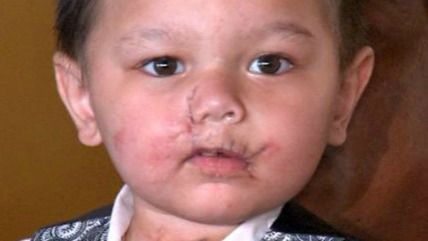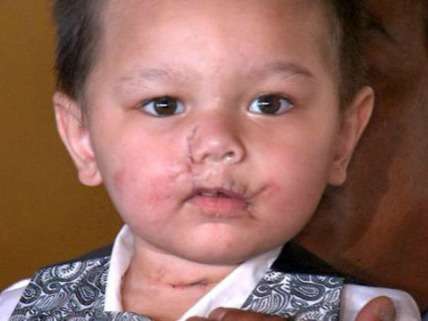 On Friday a jury acquitted a former Georgia sheriff's deputy of federal civil rights charges in connection with a May 2014 drug raid that gravely injured a toddler. Nikki Autry, a Habersham County deputy who was serving as a special agent with the Mountain Judicial Circuit Narcotics Criminal Investigation and Suppression Team, signed the application for the warrant that authorized the early-morning, no-knock raid, which found no drugs, guns, or money and left 19-month-old Bounkham "Bou Bou" Phonesavanh burned and mutilated by a flashbang grenade that landed in the playpen where he was sleeping. Autry's affidavit included several crucial misrepresentations, and during her trial the magistrate who issued the warrant testified that he would not have done so if she had told the truth.
Autry said a confidential informant "was able to purchase a quantity of methamphetamine from Wanis Thonetheva," Bou Bou's cousin, at the house she wanted to search, which belongs to Thoentheva's mother. Autry said the informant was known to be "true and reliable," having "provided information in the past that has led to criminal charges on individuals selling illegal narcotics in Habersham County." She added that she had personally "confirmed that there is heavy traffic in and out of the residence."
None of that was true. The confidential informant was newly minted and therefore had no track record, and it was his roommate who claimed to have bought meth from Thonetheva, a report that was not verified by police surveillance. Nor did Autry monitor the house to verify that a lot of people were going in and out.
Federal prosecutors argued that Autry, whom they described as "an overzealous police officer" with "no respect for the people she's investigating," made up those crucial details to manufacture probable cause for a search. She testified that the affidavit was prepared by a supervisor, Officer.com reports, but "acknowledged she reviewed it and recommended no changes be made despite numerous inconsistencies." Her attorneys portrayed that failure as unintentional. Prosecutors emphasized that the raid would not have happened without Autry's misrepresentations. "If there had never been a search warrant, Bou Bou would've never been injured," Assistant U.S. Attorney Bill McKinnon said. "There's a direct causation."
Autry was charged with four violations of Title 18, Section 242, which makes it a federal crime to deprive someone of his constitutional rights "under color of any law." That offense is generally punishable by up to a year in jail, but if "bodily harm" results, as happened in this case, the maximum penalty rises to 10 years.
Although Autry's "mistakes" led directly to Fourth Amendment violations that resulted in Bou Bou's injuries, the jury declined to hold her responsible. Her attorneys argued that Autry, who is the only officer to face charges as a result of the raid, became a scapegoat for other people's errors. They noted that Charles Long, the deputy who threw the grenade that nearly killed Bou Bou, had violated protocol by failing to illuminate the room before using the explosive device. "There's a pattern of excess in the ways search warrants are executed," defense attorney Michael Trost said during his closing argument on Friday. "That's what led to the injuries to this child."
In October 2014 a Habersham County grand jury faulted Autry for a "hurried" and "sloppy" investigation. The jurors "gave serious and lengthy consideration as to whether to recommend criminal charges" against her but decided that her resignation "in lieu of possible termination," combined with her surrender of the peace officer certification that enabled her to work in law enforcement, was "more appropriate than criminal charges and potential jail time." But the grand jurors did not consider the allegation that Autry lied in her search warrant affidavit, a charge that was included in a federal lawsuit filed by Bou Bou's parents in February.
"We are so proud of Nikki for standing up for what she believed in," one of Autry's lawyers said after Friday's verdict. But even if we accept Autry's dubious defense that the misrepresentations in her affidavit were a product of carelessness rather than deliberate deception, the only principle she has vindicated is that drug warriors can endanger innocent people's lives through sloppy police work without committing a crime.