[Updated with Ryan's Statement!] Paul Ryan's Conditions to Serve as Speaker Should Disqualify Him
Irony alert: GOP running aground as it reaches its most zenith of historic power.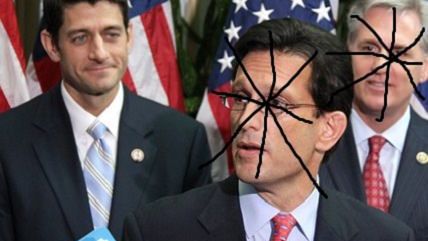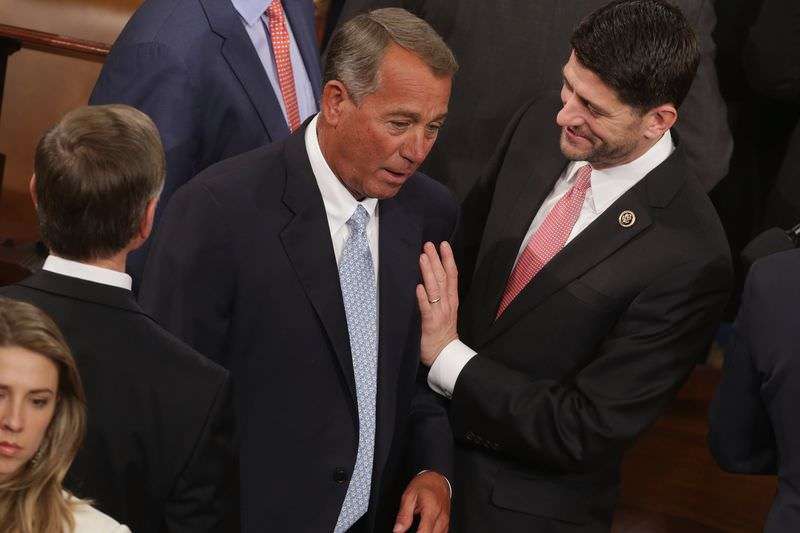 [11:00 A.M.: This article has been updated with Paul Ryan's remarks to GOP House member on his conditions for standing for the speakership. Scroll to bottom to read in full.]
Are Paul Ryan's preconditions to be serve as—well, technically, simply to run for—House Speaker legitimate?
The first thing you can say is: Give the guy credit for trying to set terms completely to his liking.
Goddammit to hell, but Americans love their junior-varsity versions of Cincinnatus, who serve reluctantly but with an iron hand. "This is not a job I've ever wanted, I've ever sought," says the 2012 GOP candidate for vice president, who is also demanding unanimous backing and more control over his conference.
When Boehner realized he was about to take power, he couldn't help but weep happy tears and channel Gollum from Lord of the Rings, which is never a good look for a politician.
But the simple fact is that Ryan has already indicated that he'd do a half-assed job, so no matter how desperate Republicans may be, they'd do well to come up with someone else to run the House of Representatives. Among his conditions are that the House unite unanimously behind his (s)election and the following (from a statement by his press secretary):
[Ryan] told his colleagues that he encourages changes to our rules and procedures, but he also believes that those changes must be made as a team. They affect everyone, so everyone should have the opportunity for input.

As part of those rules changes, he believes there needs to be a change to the process for a motion to vacate the chair. No matter who is speaker, they cannot be successful with this weapon pointed at them all the time.

He also made clear that family comes first. And a successful speaker must be able to maintain a healthy work-family balance. Less time on the road can be compensated for with a greater focus on communicating our message to the public.
Yes, give Ryan credit for negotiating the terms of his position before he assumes it. But from a management perspective for any job, you never want to hire a person who is already talking about how everything needs to be done on his terms, especially when his terms don't include any hint of a vision that might actually turn your business around. And however heartfelt, Ryan's work-family balance line is a feint; did he broker the same condition for his potential vice presidency too? Or was he just convinced that he'd never actually have to fill the position?
The primary problem with John Boehner's speakership was not that a bunch of insaniac ideological zealots constantly kept demanding more cuts to programs for widows and orphans or anything else (Jonathan Rauch has a very different point of view on this, and while I don't agree with it, it's one worth considering). It was, as Peter Suderman noted at this site, that Boehner had absolutely zero vision for the large goals that a Republican House should be pursuing. He was like a dog who was just happy sitting in the driver's seat but with absolutely no idea how to operate the engine, much less get to a particular destination.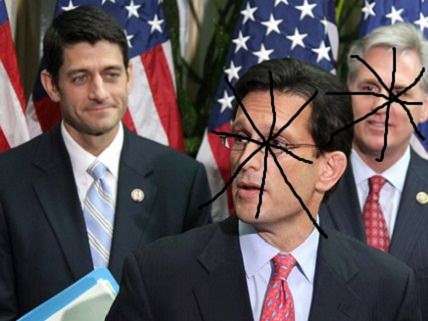 As a result, he was ready not even to cave per se but just negotiate on whatever the issue of the day was. Whatever Obama or the Dems wanted, just shave 15 percent or 25 percent or 50 percent off and call it a day; alternatively, just give in without negotiating. Sometimes that makes perfect sense, but it's only going to unite a divided party if members understand and share the larger context of an overarching agenda. Boehner was, in short, the consumate big-government conservative, devoid of any real policy agenda other than getting shit done that was kinda-slightly smaller and less awful than what the Democrats proposed. Except, of course, when it came showing how retrograde conservatives could be with social issues. In those case, he could always be expected to denounce things with something approaching enthusiasm.
Paul Ryan is a more serious character than that, but despite his vaunted policy chops, he too suffers from a similar lack of vision. If the Republican Party is actually a party of limited government and fiscal responsibility, it's hard to make sense of Ryan's budget proposals and voting record, which betray an uncomplicated relationship to expanding the size, scope, and spending of government, especially when a Republican is president. He voted for No Child Left Behind, after all, and TARP (on the first vote), The Patriot Act (and its various renewals), invading Iraq, and Medicare Part D. He'll always vote for more military spending because, well, the military can always use more money, right? The Medicare reform plan that the left pillories him for (it would restrain costs far in the future, don't you know, by replacing open-ended payments with a capped annual amount seniors could use to buy insurance) doesn't actually question the wisdom of the state paying for retirees' health care independent of their need or the fundamental unsustainability of the program whether it's "voucherized" or not. Meanwhile the ankle-biters over at Breitbart are aghast that he ever said a kind word about immigrants. Whether they speak for anyone other Rep. Steve King (Hater-Iowa) and the nativist caucus in the House is anyone's guess, but the fact that Ryan was, along with Kevin McCarthy and Eric Cantor, one of the House's "young guns" tells you he's been keeping bad company.
Perhaps Ryan did more than make demands during closed-door talks with the House Freedom Caucus and other factions within the GOP. Maybe he even unfurled an actual vision for his speakership: Here are the three big things we're going to get done between now and November 2016, that sort of thing. But from press accounts, that sort of talk wasn't in the air. Rather, it was all about how many concessions he could wrangle from a potentially desperate bunch of Republicans.
Historically, the GOP as a national party has really never been more powerful. They control both houses of Congress and a record number of state legislatures and governor's mansions. And yet since 1992, they've only been able to win the majority of one popular vote for president (George W. Bush in 2004). There are a lot of reasons for that, but a big one is that the party, especially in the House of Representatives, has showcased many of the worst elements of a party that claims to be against increasing the size, scope, and spending of the federal government but never actually finds a way to follow through on that, or, as important, to explain the reasons for why it thinks that's a good thing. Instead, voters only see the hypocrisy of small-government conservative types who vote to bail out banktards and pump money into defense spending while decrying powdered-milk subsidies that cost a fraction of the F-35's cost overruns. They see a party that, against a majority of Republicans in national polls, that spends a hell of a lot of time railing against immigrants and gays and the like while a former GOP speakers of the House get married for the 20th time, resign due to phone-sex scandals, and stand trial for paying hush money to victims of sexual abuse.
The Republicans don't need more power to enact their stated goal of downsizing government. They need a congressional leader who can articulate how they plan to do it and why it would be a good thing. Maybe that person can't be the Speaker of the House but it's certainly not going to be Paul Ryan.
Updated: Here's the text of Paul Ryan's remarks to Republicans.
"Tonight, I shared with my colleagues what I think it will take to have a unified conference and for the next speaker to be successful.

"Basically I made a few requests for what I think is necessary, and I asked to hear back by the end of the week.

"First, we need to move from being an opposition party to a proposition party. Because we think the nation is on the wrong path, we have a duty to show the right one. Our next speaker needs to be a visionary one.

"Second, we need to update our House rules so that everyone can be a more effective representative. This is, after all, the people's house. But we need to do it as a team. And it needs to include fixes that ensure we don't experience constant leadership challenges and crisis.

"Third, we, as a conference, should unify now, and not after a divisive speaker election.

"The last one is personal. I cannot and will not give up my family time. I may not be able to be on the road as much as previous speakers, but I pledged to make up for it with more time communicating our message.

"What I told the members is, if you can agree to these requests, and I can truly be a unifying figure, then I will gladly serve. And, if I am not unifying, that is fine as well. I will be happy to stay where am, at the Ways and Means Committee.

"Here is how I see it. . . .

"It is our duty to serve the people the way they deserve to be served. It is our duty to make the tough decisions this country needs to get back on track.

"The challenges we face today are too difficult and demanding for us to turn our backs and walk away.

"Global terror . . . wars on multiple fronts . . . a government grown unaccountable, unconstitutional, and out-of-touch . . . persistent poverty, a sluggish economy, flat wages, and a sky-rocketing debt.

"But we cannot take them on alone. Now, more than ever, we must work together.

"All of us are representatives of the people—all the people. We have been entrusted by them to lead.

"And yet the people we serve do not feel that we are delivering on the job they hired us to do. We have become the problem. If my colleagues entrust me to be speaker, I want us to become the solution.

"One thing I've learned from my upbringing in Janesville is that nothing is ever solved by blaming people. We can blame the president. We can blame the media. We can point fingers across the aisle. We can blame each other. We can dismiss our critics and criticism as unfair.

"People don't care about blame. They don't care about effort. They care about results. Results that are meaningful. Results that are measurable. Results that make a difference in their daily lives.

"I want to be clear about this. I still think we are an exceptional country with exceptional people and a republic clearly worth fighting for. It's not too late to save the American idea, but we are running out of time.

"Make no mistake: I believe that the ideas and principles of results-driven, common-sense conservatism are the keys to a better tomorrow—a tomorrow in which all of God's children will be better off than they are today.

"The idea that the role of the federal government is not to facilitate dependency, but to create an environment of opportunity . . . for everyone.

"The idea that the government should do less. . . . And do it better.

"The idea that those who serve should say what they mean and mean what they say.

"The principle that we should determine the course of our own lives . . . instead of ceding that right to those who think they are better than the rest of us.

"Yes, we will stand and fight when we must. And this presidency will surely require that.

"A commitment to our natural rights. A commitment to common sense . . . to compassion . . . to co-operation—when rooted in genuine conviction and principle—is a commitment to conservatism.

"Let me close by saying: I consider whether to do this with reluctance. And I mean that in the most personal of ways.

"Like many of you, Janna and I have children who are in the formative, foundational years of their lives.

"I genuinely worry about the consequences that my agreeing to serve will have on them.

"Will they experience the viciousness and incivility that we all face on a daily basis?

"But my greatest worry is the consequence of not stepping up. Of some day having my own kids ask me, when the stakes were so high, 'Why didn't you do all you could? Why didn't you stand and fight for my future when you had the chance?'

"None of us wants to hear that question.

"And none of us should ever have to.

"I have shown my colleagues what I think success looks like, what it takes to unify and lead, and how my family commitments come first. I have left this decision in their hands, and should they agree with these requests, then I am happy and willing to get to work. Thank you."