Drug Laws: Designed to Make Sure Drugs Cause More Harm Than They Otherwise Would
How "antirave" policies make sure more drug users get hurt.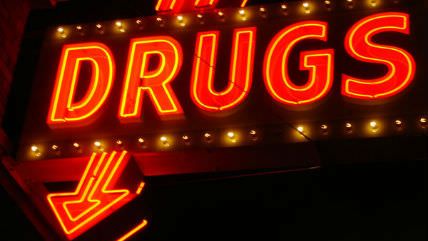 Rolling Stone has an interesting profile of the world of harm reduction organizations who try to station themselves as huge festive gatherings where we have reason to believe often ignorant and amateur people might be taking illegal drugs that could be dangerous—particularly when the drug's true composition is unknown or where people might not know how to manage their water intake properly along with the drug experience.

The bullet point for people collecting yet more reasons why the war on drugs seems almost deliberately designed to make sure the existence and use of illegal drugs causes more harm than they would if the government just left it alone:
Some events, like California's Lightning in a Bottle and Portugal's Boom Festival, have become models for psychedelic harm reduction for their integration of services like drug-checking, trip-sitting and education on how to stay cool, hydrated and calm during a festival. In Europe and Canada, where harm reduction has become more mainstream, drug-checking and other risk minimization techniques are common.

One obstacle to enforcing this model across the U.S., advocates say, is the Illicit Drugs Anti-Proliferation Act, passed by Congress in 2003, which imposes harsh fines on event organizers who allow or encourage drug use on their premises. (The bill is frequently known as the Rave Act, or Reducing Americans' Vulnerability to Ecstasy Act, for the name under which it was originally proposed by then-Senator Joe Biden in 2002.) Dede Goldsmith, the mother of Mary "Shelley" Goldsmith, a University of Virginia sophomore who died after taking MDMA at Washington, D.C.'s Echostage in 2013, has launched a campaign to Amend the Rave Act in order to assure event organizers that harm reduction campaigns will not lead to prosecutions.
Thank you Joe Biden. You are a perfect presidential candidate for the modern Democratic Party—a dedicated advocate of officious busybodism, even when it turns fatal.
Andrew Bazos is chairman of CrowdRx, a medical services company for large events like Bonnaroo, Coachella, Electric Zoo and Electric Forest, along with venues like Madison Square Garden and Yankee Stadium. From his perspective, harm reduction groups can raise complicated questions. "It's a little bit trickier for a promoter to directly ally themselves with these entities," he tells RS, particularly when it comes to drug-checking. "I don't think we're ready to be offering that as a free service at our shows, because there's a tacit acceptance that drugs are okay if we do that. We don't get into the politics of that."
Try this slogan on for size: "Without government, who would punish event organizers for instituting (or even allowing) sensible safety measures that might keep their clientele healthy and alive?"
Not even to mention that a legal market generally produces reputable products of predictable and non-fatal make-up, not random crap.
Joe Biden doesn't care. Joe Biden doesn't have to care.