President Obama Joins Spotify, White House Promises 'Issue-Specific' Playlists
The politics of everything.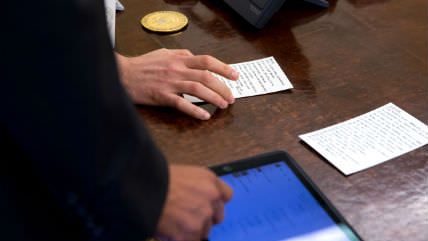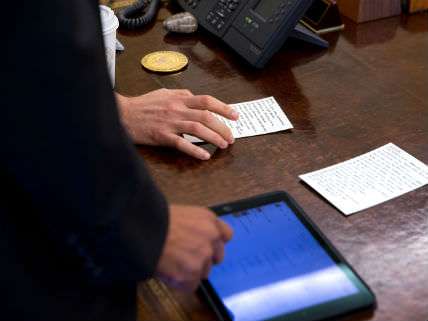 The White House blog thinks your summer "just got a little groovier" because you can listen to not one but two playlists put together by President Obama on Spotify, one for the day and one for night.
Is the move part of the cultivation of the presidential cult of personality? Or another co-option of popular culture for political ends? Why not both? Via the White House blog:
When asked to pick a few of his favorite songs for the summer, the President got serious. He grabbed a pen and paper and drafted up not one, but two separate summer playlists: One for the daytime, and one for the evening…

Give them both a listen and a subscribe — we think you're going to love it.

And make sure you follow the White House on Spotify — because we've got a lot more to come, from issue-specific playlists to songs selected by other people in the White House.
Issue-specific playlists! I could just die. What would your issue-specific playlists look like? Share your ideas in the comments.
If you're not signed up for Spotify or don't want to click through to the White House here are the songs on the "day" playlist:
Ain't Too Proud to Beg – The Temptations
Live It Up – Isley Brothers
Memories Live – Talib Kweli & Hi Tek
Tombstone Blues – Bob Dylan
So Much Trouble in the World – Bob Marley
Paradise – Coldplay
Tengo Un Trato (Remix) – Mala Rodriguez
Wang Dang Doodle – Howlin Wolf
Another Star – Stevie Wonder
Hot Fun in the Summertime – Sly & the Family Stone
Boozophilia – Low Cut Connie
Wherever Is Your Heart – Brandi Carlile
Good Day – Nappy Roots
Green Light – John Legend
Gimme Shelter – Rolling Stones
Rock Steady – Aretha Franklin
Down Down the Deep River – Okkervil River
Pusher Love Girl – Justin Timberlake
Shake It Out – Florence + The Machine
La Salsa La Traigo Yo – Sonora Carruseles
And the night:
My Favorite Things – John Coltrane
Superpower (feat. Frank Ocean) – Beyoncé
Moondance – Van Morrison
Is Your Love Big Enough? – Lianne La Havas
How Can You Mend a Broken Heart – Al Green
Red & White & Blue & Gold – Aoife O'Donovan
Nothing Even Matters – Lauryn Hill
The Best Is Yet to Come – Frank Sinatra
You Don't Know Me – Ray Charles
I Found My Everything – Mary J Blige
Help Me – Joni Mitchell
I've Got Dreams to Remember – Otis Redding
Suzanne – Leonard Cohen
Feeling Good – Nina Simone
Stubborn Love – The Lumineers
Until – Cassandra Wilson
UMI Says – Mos Def
The Very Thought of You – Billie Holiday
Flamenco Sketches – Miles Davis
Woo – Erykah Badu