Obama Just Commuted the Sentences of 46 Non-Violent Drug Offenders
This is a promising and positive step in the right direction, but real reform is still needed.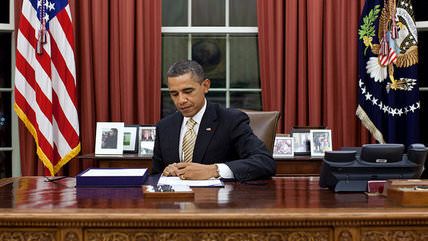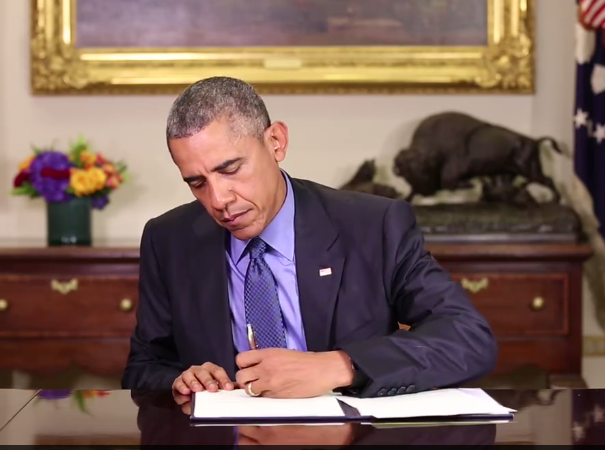 President Obama commuted the sentences of 46 federal prisoners today, all of whom were convicted of a nonviolent drug offense and would have received shorter sentences if they were convicted of the same crimes today. Per Obama's orders, all of these individuals will be released November 10 of this year. The White House published a full list of the inmates whose sentences were commuted here. Obama also made a video announcement about the commutations, which was published on the White House Facebook page.
Of the 46 prisoners whose sentences were commuted today, 14 were sentenced to life (although one individual had his life sentenced amended to 293 months, or roughly 24 ½ years, in March). All of the prisoners were sentenced for a nonviolent drug offense, but the majority were convicted of a crack/cocaine offense. Two individuals, Jerome Johnson and John Wyatt, were convicted of only marijuana offenses.
All of these prisoners face an uphill battle upon release, not only because reintegrating into society after spending decades behind bars is really tough, but also because these individuals will be branded with a felony record for the rest of their lives unless pardoned by the President. Having a felony on one's record makes obtaining employment, housing, or other federal assistance, such as student loans, quite difficult or impossible. For example, Barbara Scrivner, a woman whose 30-year prison sentence was commuted by Obama last year, told Yahoo a few months ago that despite having a letter signed by President Obama himself, she was rejected by hundreds of employers before securing a job at a cleaning company. By then, the house she had been living in, previously owned by her father who had passed away while she was incarcerated, was repossessed and sold by a bank. She's currently raising money to be able to relocate with her daughter and grandson.
There are still thousands of federal prisoners awaiting the same type of relief these lucky 46 inmates received today. Indeed, after the Department of Justice expressed a new openness to commutation petitions in 2014, over 30,000 prisoners contacted the Clemency Project—a joint effort by Families Against Mandatory Minimums, the American Civil Liberties Union, the American Bar Association, and the National Association of Criminal Defense Lawyers—with the desire to have their petitions considered.
These commutations come just a few days before President Obama is scheduled to tour the El Reno federal prison, a medium security prison in Oklahoma that houses 1,300 inmates. This will be the first time a sitting president has ever visited a federal prison. Tomorrow, Obama will address the NAACP's annual conference in Philadelphia, during which he will lay out his ideas for criminal justice reform.
While these 46 commutations are promising and an overwhelmingly positive step in the right direction, real reform must come in the form of legislation that scales back the destructive, punitive sentencing laws that allowed for these individuals to be sentenced to decades in prison in the first place. While it's not perfect, there's one bipartisan bill currently before Congress, the SAFE Justice Act, that presents the best chance to reforming federal drug sentencing laws, and it's receiving increased levels of support in recent months.
It's encouraging to see a President who has until recently had one of the most awful clemency records of any modern president, and whose administration has prosecuted more individuals for federal marijuana offenses than previous administrations, actually attempt to do something to reform our criminal justice system. Whether federal sentencing reform becomes a reality in light of Obama's commutations and federal prison visit has yet to be seen.