The Relentless March Toward a New Universal Agreement on Climate Change
Rich countries commit to total decarbonization of the global economy.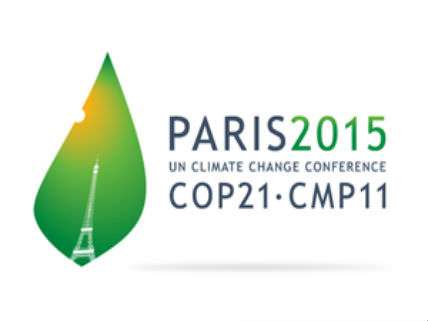 Earlier this week, President Barack Obama and the other leaders at the G7 meeting in Germany issued a declaration stating that the world's economy must be completely decarbonized by the end of this century. Otherwise, they worry, the continued burning of fossil fuels will boost global temperatures by more than 2°C, pushing man-made climate change into dangerous territory.
This fear is largely based on projections from computer models. It is of more than passing interest that most of the models are running much hotter than the actual temperature trends. Nevertheless, the G7 leaders committed their countries to the goal; and by 2050, they want global greenhouse gas emissions down to 40 to 70 percent below the levels emitted in 2010. They further affirmed their "strong determination" to adopt a legally binding agreement at the Climate Change Conference this December in Paris.
The leaders want all countries to submit their "intended nationally determined contributions" to the fight against climate change—their INDCs, in bureaucratic lingo—well in advance of the Paris conference. These are national plans for reducing greenhouse gas emissions after 2020. The goal is to have enough INDCs by the Paris meeting such that they are added up they are sufficient to be "in line with the global goal to hold the increase in global average temperature below 2°C."
As it happens, climate negotiators from scores of countries were also meeting this week in Bonn, Germany, trying to hammer out that legally binding agreement—in the words of the G7 statement, a "protocol, another legal instrument or an agreed outcome with legal force." Why the convoluted language? Because the negotiators all know that if the new agreement is a treaty, it will have to be submitted to the U.S. Senate for its advice and consent. As French Foreign Minister Laurent Fabius explained earlier this month: "We must find a formula which is valuable for everybody and valuable for the U.S. without going to the Congress. We know the politics in the U.S. Whether we like it or not, if it comes to the Congress, they will refuse."
Earlier U.N. negotiations concocted a possible workaround for America's inconvenient climate change politics: If each country can come up with those INDCs, the Obama administration could perhaps artfully interpret the Paris agreement as not being an actual treaty. Instead, they would argue, it is simply an elaboration of already existing U.S. obligations to stabilize greenhouse gases under the United Nations Framework Convention on Climate Change (UNFCCC).
Some countries have already made their INDC pledges. Obama has promised to cut U.S. greenhouse gas emissions 17 percent from their 2005 levels by 2020, and then reduce them further by 26 to 28 percent by 2025. That's about a 14 to 17 percent reduction below 1990 levels. The European Union has committed to a binding target of an at least 40 percent domestic reduction in greenhouse gas emissions by 2030 compared to 1990. Russia intends to limit its greenhouse gas emissions to 70-75 percent of its 1990 levels by the year 2030. Since Russia's vast forests absorb a great deal of carbon dioxide it may only have to cut its actual emissions by 6 to 11 percent below 1990 levels.
China does not plan any emissions reductions, but intends to peak its carbon dioxide emissions by 2030. Canada's INDC, which includes a forest carbon absorption component, aims to reduce by 2030 its greenhouse gas emissions by 30 percent below its 2005 levels. According to calculations made by the non-governmental group Climate Action Tracker that translates to a 21 percent reduction below 2005 emissions levels excluding forestry, or 2 percent below 1990 levels. Japan's draft INDC contains a reduction target of 26 percent below 2013 emission levels by 2030 (equivalent to 18 percent below 1990 levels). Other big emitters, including Brazil, India, Indonesia, and Australia, have yet to submit their INDCs.
So would current INDC pledges achieve the U.N.'s goal of stabilizing greenhouse gas concentrations "at a level that would prevent dangerous anthropogenic interference with the climate system"? At earlier climate meetings, negotiators agreed that the risk of dangerous interference with the climate becomes too great if global average temperature exceeds 2°C above the pre-industrial level. So far, global temperature has risen about 0.85°C above the pre-industrial level. In Bonn last week, U.N. climate researchers Andreas Fischlin and Zou Ji warned that "limiting global warming to below 2°C necessitates a radical transition…not merely a fine tuning of current trends."
As things stand, many climate scientists and environmental activists calculate that the current INDC pledges are far from sufficient for keeping the average temperature rise below 2°C. The United Nations Environment Programme calculated last year that the emissions reduction pathway implied by current INDCs means that global average surface warming would rise to 3.7 to 4.8°C above pre-industrial levels by 2100.
Last month British economist Nicholas Stern and his colleagues at the London School of Economics' Grantham Research Institute on Climate Change and the Environment issued an analysis of the current INDC pledges. They report that in order for the world to maintain global temperatures below 2°C in 2100, we will have to emit the equivalent of between 32 and 44 gigatons of carbon dioxide. In 2014, the humanity emitted about 40 gigatons of greenhouse gases. Given the promised reductions and the expected increases in emissions from developing countries as their economies grow, projected global emissions will be the equivalent of 57 to 59 gigatons of carbon dioxide in 2030.
Stern and his colleagues currently project that the U.S., the E.U., and China will together emit 22 gigatons in 2030. If developing countries do not reduce their projected emissions of 35 gigatons, the only way for the world to meet the high-end goal of emitting only 44 gigatons in 2030 is for the U.S., the E.U. and China to cut their projected emissions extremely steeply—from 22 gigatons to just 9 gigatons. For reference, the U.S. alone emitted 6.7 gigatons in 2013.
At the conclusion of the Bonn climate negotiations yesterday, UNFCCC Executive Secretary Christiana Figueres announced that the world's states "are committed to reach an agreement that sets down the pathways and the supporting structures for a century-long transformation that allows all countries to reach a sustainable, clean energy future." Not everyone was so sanguine. Samantha Smith, leader of World Wildlife Fund's Global Climate and Energy Initiative, asserted: "Progress in Bonn has been slow, but a bigger concern is the growing gap between what is needed and what is being promised on finance and emissions. While much work remains to close that gap, there is hope that governments are finally committed to take more action on emissions prior to 2020."
Thus grind the gears as we move toward Paris and a new universal agreement on climate change.