Martin O'Malley's Lousy Record on Overpolicing
The potential presidential candidate isn't very good on civil liberties.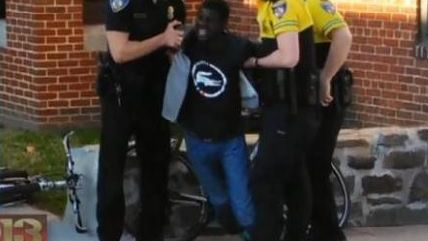 Likely presidential candidate Martin O'Malley weighed in on the Baltimore riots last night, which is to say he tweeted some mushy platitudes. The most bizarre subplot of the early presidential campaign, at least for those of us who lived in Baltimore when O'Malley was mayor, is to see this man recast as the Great Insurgent Hope for angry lefties dissatisfied with Hillary Clinton. O'Malley may be a liberal when it comes to taxes and regulations, but if you're talking about civil rights and civil liberties…well, here's a Washington Post piece that should give you a sense of his record on police issues:
Police in Baltimore—like their counterparts elsewhere—have had strained relations with African Americans for generations. But community leaders say the relationship reached a nadir during O'Malley's tenure, thanks to a policing strategy that resulted in tens of thousands of arrests for minor offenses such as loitering and littering.

Although prosecutors declined to bring many of the cases, activists contend that those who were arrested often could not get their records expunged, making it harder for them to get jobs….

In 2005, with O'Malley in office, [former Baltimore NAACP leader Doc] Cheathem recalled the local NAACP branch being "inundated with calls from African Americans and Hispanic men saying they were being arrested and no charges were being filed."

A contingent of activists "met with the mayor and shared our anger—that these guys weren't being charged but were coming out with arrest records," Cheathem recalled. "We requested that this process be stopped, and he was not receptive to it at all. We left with the idea that we had no recourse but to sue."

The NAACP joined in a lawsuit filed by the ACLU that was based on the arrest of a 19-year-old man with no prior criminal record who spent hours in jail for dropping a candy wrapper on the street while sitting on the steps of his aunt's house. The suit named O'Malley and other Baltimore officials, including the police commissioner, and alleged that the Baltimore police had improperly arrested thousands of people "without probable cause and in violation of the U.S. Constitution."

The complaint was settled four years later, with Baltimore agreeing to pay an $870,000 settlement. By then, O'Malley was governor.