"I Can Breathe": Pro-NYPD Demonstrators Rally, Clash with Anti-NYPD Protesters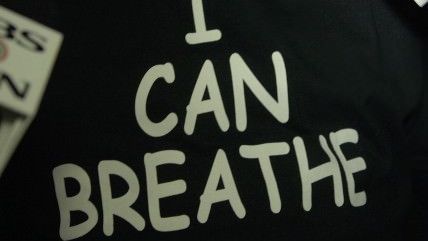 After a tumultuous end to 2014, things are looking up in the Big Apple when it comes to law and order.
For the first time in at least 20 years, New York City has enjoyed 11 consecutive days without a murder. Last week, Mayor Bill de Blasio extended an olive branch to the NYPD, whose members infamously turned their backs on him at 2 slain police officers' funerals, by offering to spend $7.3 million on new bulletproof vests. Officer Peter Liang was indicted by a Brooklyn grand jury in the shooting death of Akai Gurley, an unarmed man walking in the stairwell of his girlfriend's apartment building.
It's hard to believe it was less than two months ago that police and community relations in Gotham were at such a fever pitch that the NYPD even engaged in a "work slowdown." Reason TV captured some of this tension at a pro-police rally outside City Hall last December.
"'I Can Breathe': Pro-NYPD Demonstrators Rally, Clash with Anti-NYPD Protesters": Produced by Anthony L. Fisher. Camera by Jim Epstein. About 3 and a half minutes.
Original release date was December 20, 2014 and the original writeup is below.
About 100 pro-NYPD demonstrators rallied outside New York's City Hall tonight, some wearing shirts reading "I Can Breathe" in response to similar Comic Sans-fonted t-shirts bearing the dying words of Eric Garner, "I Can't Breathe."
Among their complaints was a lack of appreciation for the dangers of police work, despite recently released FBI statistics showing it has never been safer to be a police officer and crime rates ar historic lows; insufficient respect for police authority, and a perceived lack of support from New York Mayor Bill de Blasio.
The NYPD used barricades to cordon off their supporters from anti-police brutality counterdemonstrators, though some of the latter did enter the space of the former, leading to some fiery exchanges.