That Time the FBI Tried to Get MLK to Commit Suicide Before Receiving the Nobel Peace Prize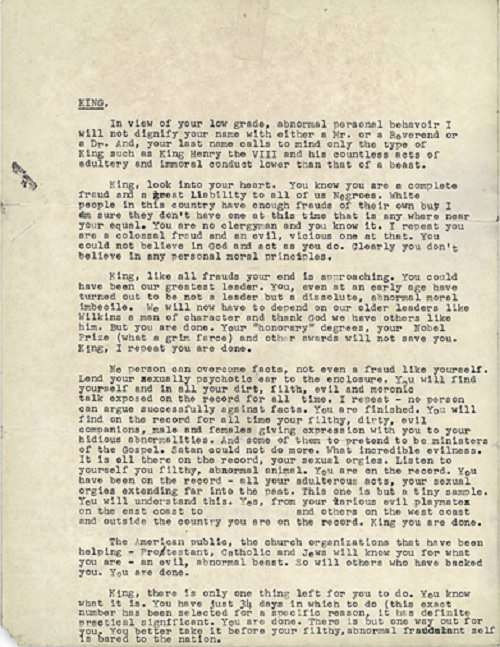 Late last year, historian Beverly Gage published an unredacted version of the notorious November, 1964 letter sent anonymously to Martin Luther King, Jr. before he would travel to Europe to collect his Nobel Peace Prize (above). The letter suggested that King kill himself or else be outed for sexual improprieties. It is widely believed the letter was sent either by FBI operatives or at least sanctioned by the agency, as it relies on information compiled from surveillance conducted by J. Edgar Hoover with the imprimatur of Attorney General Bobby Kennedy (whether Lyndon Johnson directly okayed such actions, it's unambiguous that he knew about them and discussed their findings).
Historians had long sought after an unredacted version of "suicide letter," as it is known. It's a disturbing piece of work, to say the least. It poses as a note from a concerned African American. It's failure was complete, as it wasn't read until after King received his Nobel and it was opened by his wife, who turned it over to her husband.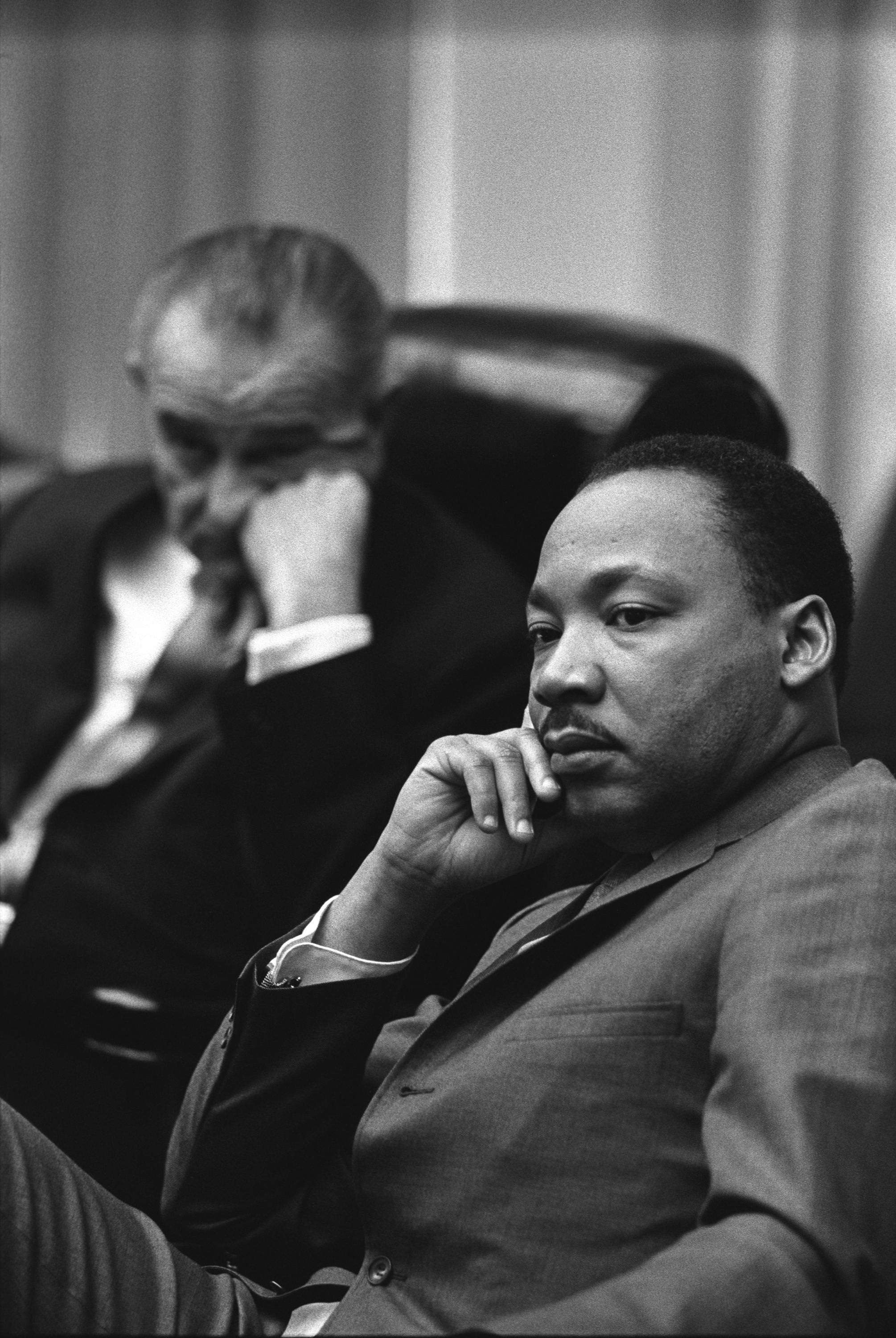 I wrote about the letter last fall when The New York Times published it. We live in an age where trust and belief in the government is far lower than it was the FBI was pulling grotesque stunts like this one. Our ambivalence is well-founded, given not just the revelations of the Church Committee in the 1970s but more recent news of just how little the government regards our civil liberties. Martin Luther King's legacy for race relations is rightly well-known and celebrated. We should also remember that his treatment by government carries lessons about the state-sanctioned violation of privacy and dignity.
Though it was sent 50 long years ago, the FBI's so-called suicide letter to Martin Luther King, Jr. is very much of a piece with today's America, where fear of and anger toward the government casts a shadow over everything from web-surfing to starting a business….

Fifty years ago—again, right around the time that the FBI was about to become the subject of a hagiographic hit TV show and trying to goad Martin Luther King, Jr. into killing himself—Richard Hofstadter was denouncing the "paranoid style in American politics,". He lamented that, "American politics has often been an arena for angry minds."

But today's lack of trust and confidence in the government doesn't seem all that angry. It's more like we're resigned to the fact that our rulers think little of us—that is, when they think of us at all. In gaining new knowledge about how people in power almost always behave, we are wiser and sadder and, one hopes, much less likely to put up with bullshit from the left, right, or center.

There's a real opportunity to the politicians, the parties, and the causes that dare to embrace real transparency —about how legislation is being crafted, about our surveillance programs at home and abroad—as a core value and something other than a throwaway slogan. But as an unbroken thread of mendacity and mischief binds the present to the past, a future in which government can be trusted seems farther off than ever.