If NYC Cops Arrest Fewer Pot Dealers, Maybe They Will Deliver Fewer Beatings Too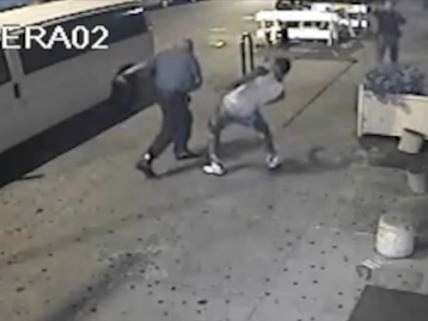 The New York Post reports that the NYPD has stopped making "buy and bust" arrests of pot dealers:
The head of each borough's narcotics unit was summoned to 1 Police Plaza last week and told, "The powers that be don't want to see any more of these [pot] arrests," sources said.

An angry source called it a calculated move by city leaders.

"Of course, this comes from City Hall and [Mayor Bill] de Blasio. This is all about arresting minorities, and this is just one way to arrest less minorities,'" the source said.
During his campaign last year, De Blasio decried "low?level marijuana possession arrests," saying they disproportionately affect minorities and "have disastrous consequences for individuals and their families." He promised to end the "unjust and wrong" practice of arresting pot smokers for "public display" of cannabis, an end run around the decriminalization of marijuana possession that the state legislature enacted in 1977. But after De Blasio took office, low-level marijuana busts continued at about the same pace as in the last year of Michael Bloomberg's administration. The Post's angry police source thinks De Blasio is responding to critics who note that he failed to deliver on his promise by dialing back arrests of small-time pot dealers. If so, maybe he could get cops to lay off their customers too.
Ed Mullins, president of the Sergeants Benevolent Association, thinks such restraint signals the end of civilization as we know it. Seriously. "If the current practice of making arrests for both possession and sale of marijuana is, in fact, abandoned," he told the Post, "then this is clearly the beginning of the breakdown of a civilized society."
Even as it slides into anarchy, New York City may see less lawlessness of this sort:
Two New York City police officers have surrendered to face criminal charges in the videotaped beating of a teenage marijuana suspect.

David Afanador and Tyraine Isaac were awaiting arraignment on Wednesday afternoon. They both reportedly face charges of assault and official misconduct and one also faces an extra charge of criminal possession of a weapon.

Security video from Aug. 29 captured a 16-year-old slowing down on a Brooklyn sidewalk as the officers caught up to him….

The video allegedly shows an NYPD officer later identified as Isaac hitting the teen with a roundhouse punch. Seconds later, as the teen tries to surrender, Afanador appears to hit him with his pistol. The beating continues until the teen drops to the ground and is handcuffed….

Patrick Lynch, the president of the Patrolmen's Benevolent Association, said the video doesn't tell the full story.
What is the context that supposedly explains the officers' violence? Police "claimed that in the Aug. 29 incident [the teenager] threw 17 small bags of pot while running away."
DNAinfo has video of the arrest.