Tonight on The Independents: 'And Justice for Some,' Starring Freeway Ricky Ross, Sheriff Joe Arpaio, a Man Who Did Solitary for Five Years, and More!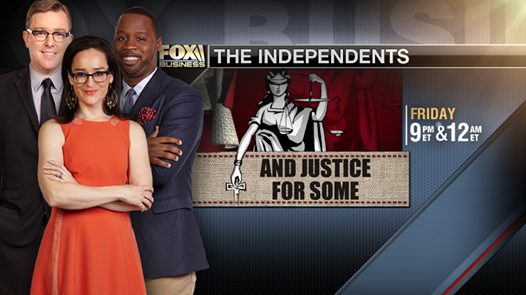 Tonight's theme episode of The Independents (Fox Business Network, 9 p.m. ET, 6 p.m. PT, with re-airs three and five hours later), is all about the recent movement to (long-overdue) criminal justice reform, spearheaded by the likes of Sen. Rand Paul (R-Ky.) and Sen. Cory Booker (D-N.J.).
The show starts with a wide-ranging debate between the co-hosts and two former prosecutors: Fox News Legal Analyst Lis Wiehl and The Five co-host Kimberly Guilfoyle. Next comes testimony from a man named Five Mualimm-ak, who spent five years in solitary confinement (hence the name), and now runs the Incarcerated Nation Campaign. After a discussion about botched executions and capital punishment, the show then interviews former South-Central L.A. cocaine kingpin Freeway Ricky Ross. Yes, that Freeway Ricky Ross.
"America's Toughest Sheriff" Joe Arpaio then talks about his controversial incarceration tactics and alleged racism; the ACLU's Vanita Gupta discusses racial disparities in drug arrests and sentencing, and the co-hosts finish the program off by talking about what steps led to this moment of possible reformation. It's a high-quality, entertaining, and informative news program, and I hope you invite your friends to sit around and watch. And if you are intrigued by these ideas, please consult Reason's special July 2011 issue on the subject, "Criminal Injustice."
Follow The Independents on Facebook at facebook.com/IndependentsFBN, follow on Twitter @ independentsFBN, and click on this page for more video of past segments.