Oregonians Will Decide Whether to Legalize Marijuana This Year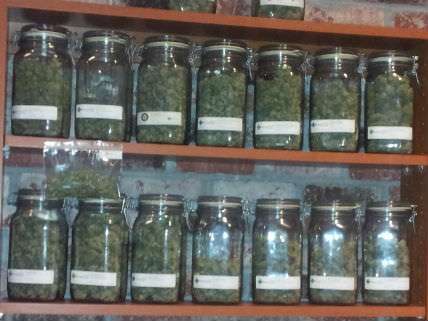 Today the supporters of an Oregon initiative aimed at legalizing marijuana for recreational use submitted signatures from 145,710 voters—"more than enough," according to the campaign, to qualify the measure for the ballot this November. That makes Oregon the second state, after Alaska, that could follow the example set by Colorado and Washington in 2012 by legalizing marijuana this year.
The Oregon initiative, known as the Control, Regulation, and Taxation of Marijuana and Industrial Hemp Act, combines elements of Colorado's Amendment 64 and Washington's I-502. Like both of those initiatives, it would allow adults 21 and older to purchase and possess in public up to an ounce of marijuana at a time. Like Amendment 64, it allows nonprofit transfers of up to an ounce.
The Oregon measure bans marijuana consumption in any "public place," defined as "a place to which the general public has access." By comparison, Colorado prohibits "consumption that is conducted openly and publicly," while Washington forbids consumption "in view of the general public," both of which seem to cover less ground. Like Colorado (and unlike Washington), Oregon's initiative allows home cultivation, but with stricter limits: up to four plants and eight ounces of usable marijuana per household, compared to six plants and whatever amount they produce per adult in Colorado.
The Oregon initiative takes a different approach to taxation than Colorado or Washington, both of which imposed levies based on a percentage of wholesale and retail prices. Oregon's initiative instead would impose taxes on cannabusinesses based on weight: $35 per ounce of buds and $10 per ounce of leaves, plus $5 per immature plant.
One distinct advantage of the Oregon initiative is that it would not change the standard for driving under the influence of intoxicants (DUII, a.k.a. DUID). Under current law, convicting someone of DUII requires showing that he was "affected to a noticeable degree" by marijuana or another controlled substance, based on the "totality of the circumstances." By contrast, Washington's current rule, established by I-502, says any driver whose blood contains five or more nanograms of THC per milliliter is automatically guilty of DUID, a standard that in effect prohibits driving by many daily consumers, including patients who use marijuana as a medicine, even when they are not actually impaired. Amendment 64 did not directly change Colorado's DUID law, but after it passed the state legislature approved a law that created a "rebuttable presumption" of DUID at five nanograms, which in practice may have the same impact as Washington's law. Oregon's initiative instead instructs the state Liquor Control Commission, which as in Washington would be charged with regulating the newly legal cannabis industry, to study "the influence of marijuana on the ability of a person to drive a vehicle" and advise the legislature on whether changing Oregon's DUII rule is appropriate.
A previous Oregon legalization initiative failed in 2012, when 53 percent of voters said no to Measure 80. A recent Survey USA poll put support for legalization in Oregon at 51 percent, with 41 percent opposed and 8 percent undecided. In Alaska, where voters will consider a legalization measure in August, a March poll commissioned by the Alaska House Majority Caucus found that 52 percent of voters favored it.