Atlantic City Wants to Bulldoze a Home to Benefit a Casino
Eminent domain abuse returns to the Atlantic City boardwalk.
In 1994 a New Jersey state agency known as the Casino Reinvestment Development Authority (CRDA) tried to seize the home of an elderly widow named Vera Coking, who lived just off of Atlantic City's famous beachfront boardwalk. In place of Coking's modest residence, state officials envisioned a new limousine parking lot for the neighboring Trump Plaza, the high-rise hotel and casino owned and operated by real estate tycoon Donald Trump.
Thankfully, this preposterous attempt to wield eminent domain on Trump's behalf was struck down in court. "What has occurred here is analogous to giving Trump a blank check with respect to future development on the property for casino hotel purposes," declared the Superior Court of New Jersey in a sharp ruling against the CRDA. Coking remained in her home.
Flash forward two decades, and the CRDA is back to its old dirty tricks. Today the Superior Court of New Jersey is hearing arguments in the case of Casino Reinvestment Development Authority v. Birnbaum. Once again, the state agency is trying to use eminent domain on behalf of a politically connected Atlantic City casino.
The present controversy arose in 2012 when Atlantic City officials announced a "South Inlet Mixed Use Development Project" designed to "complement the new Revel Casino and assist with the demands created by the resort." Although the specifics of the project remain vague—in fact, the state has yet to release any documents detailing all of the project's particulars—the CRDA has launched an aggressive campaign to snatch up various parcel of land. In February 2014, that land grab reached Charles Birnbaum, whose family has owned a home near the Atlantic City boardwalk since 1969. According to the CRDA, Birnbaum's family home must now be razed "for public use in connection with the South Inlet Mixed Use Development Project."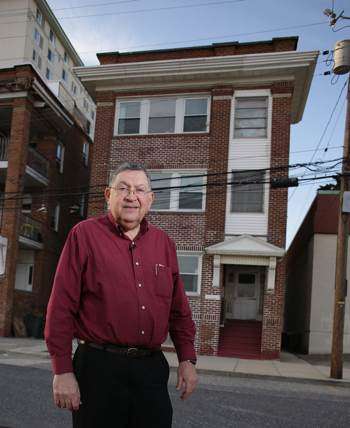 In response, Birnbaum joined forces with the Institute for Justice, the public interest law firm that previously represented Vera Coking in her winning battle against the same state agency. "The so-called Project consists entirely of high-blown rhetoric and a handful of 'conceptual' drawings provided by the Revel Casino," Birnbaum and his lawyers told the court. "This project fails to satisfy any of the requirements that would allow CRDA to take the Birnbaum Family Home."
To be sure, the U.S. Supreme Court has taken a lax approach towards eminent domain abuse in recent years, most notably in its 2005 decision allowing New London, Connecticut, to seize multiple homes and businesses on behalf of a redevelopment project designed to eliminate a working-class neighborhood and replace it with various upscale amenities. According to the author of that opinion, retired Justice John Paul Stevens, it was an easy case for him to write because it "adhered to the doctrine of judicial restraint, which allows state legislatures broad latitude in making economic policy decisions in their respective jurisdictions."
Fortunately for Charles Birnbaum (and every other Garden State property owner), the New Jersey Supreme Court has refused to perform a similar act of judicial surrender under the state constitution. Indeed, in 2007 the state's high court slapped down one local government's attempted misuse of eminent domain because the New Jersey constitution forbids "government redevelopment of private property solely because the property is not used in an optimal manner."
That precedent is directly applicable here. The Birnbaum family home is neither blighted nor in need of any so-called urban renewal. Yet the government wants to bulldoze this well-tended property in service of a shady real estate deal whose only clear beneficiary is a well-heeled casino—the very sort of private enterprise whose corporate welfare should be cut to the bone, not beefed up at the expense of other people's constitutional rights. Once again, the Casino Reinvestment Development Authority has emerged as a menace to property owners and an embarrassment to the rule of law. This eminent domain boondoggle deserves to be laughed out of court.