Tonight on The Independents: Red Meat Wednesday, With Ron Paul, Robert Bryce, Jedediah Bila, Tom Shillue…and Rick Santorum!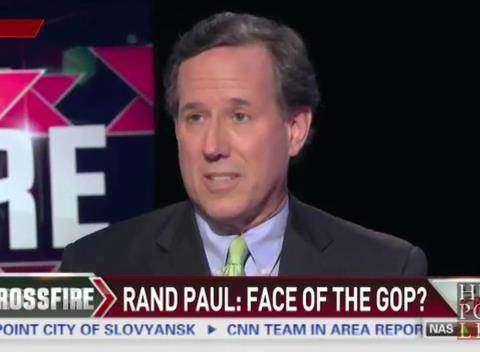 Tonight's episode of The Independents (Fox Business Network, 9 p.m. ET, 6 p.m. PT, repeats three hours later) starts off with what is sure to be a robust exchange of views with once and future GOP presidential hopeful (and inveterate libertarian-basher) Rick Santorum, who will be discussing his new book Blue Collar Conservatives: Recommitting to an America That Works. For a partial list of Santorum's previous affronts to libertarianism, click here.
Party Panelists tonight are comedian/singer Tom Shillue and Token Lefty Rick Ungar, who will talk about senatorial candidate Ben Sasse's GOP primary win in Nebraska, why feeding homeless people is a crime, and the $1.2 billion Obamacare contractor that pays its employees to do nothing much at all.
Beloved ex-congressman Ron Paul will come on to talk about the effects that state-legal pot is having on Mexican drug cartels; author/energy analyst Robert Bryce talks about his new book Smaller Faster Lighter Denser Cheaper: How Innovation Keeps Proving the Catastrophists Wrong; and guest co-host Jedediah Bila will help tackle the question of what you would do if you found out your significant other's father was a serial killer.
Follow The Independents on Facebook at facebook.com/IndependentsFBN; follow on Twitter @ independentsFBN, tweet out during the show and it might be used. And click on this page for more video of past segments.