Washington's Marijuana Lottery: Good Odds, Big Cash Prizes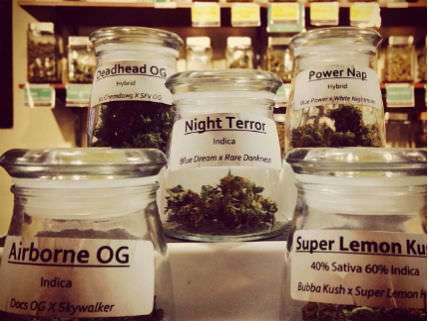 When the Washinton State Liquor Control Board (LCB) decided to license just 334 marijuana stores, it made permission to operate such a business a scarce and valuable commodity. But when the LCB received more than 2,100 applications for those 334 licenses, it did not cash in on that artificial value by auctioning them. Instead it used lotteries to winnow the field in each jurisdiction with more applications than licenses (which was most of them), saying applicants who received the lowest numbers would get first crack at qualifying. Guess what happened next.
The Kitsap Sun reports that David Comeau, who drew the second lowest number in the lottery for Bremerton, where the LCB plans to issue two retail licenses, recently sold his business, Better Buds, to C&C Shop LLC, which came in 13th, for $150,000. Comeau, whose business exists mostly on paper, will also receive 10 percent of C&C's net monthly revenue (or $10,000 a month, if the revenue is lower than that) for as long as the company's store is open. Since the application fee was $250, that's a pretty good payoff. Plus Comeau was competing against just 15 other applicants for Bremerton's two licenses. Those have to be the best odds ever in a state lottery. "We just got really, really lucky," Comeau told the Sun. "It was absolutely like winning a real lottery." He is not the only one to recognize the value of such luck:
Other marijuana lottery "winners" are rushing to sell. Several businesses were listed this week on Craigslist after placing high in retail lotteries. One was asking $1 million, another wanted $2.5 million. Comeau predicted a "frenzy" of marijuana business acquisitions this month.
John Davis, who operates two medical marijuana dispensaries in Seattle, applied for three of the 21 retai licenses allocated to that city. The LCB rejected one application, claiming (erroneously, according to Davis) that the location was in a "forbidden zone" (i.e., within 1,000 feet of a school, park, playground, library, recreation center, child care center, or game arcade). The other two applications placed 52nd and 96th. Although Davis' chances do not look good, some of the businesses higher on the list may not qualify for licenses, since they still have to clear background checks, get their operating plans approved, and pass inspections. "Some of them will go through the next screen and make it," Davis tells me, "but just don't have the know-how, the financing, the ties to a location that will allow them to open. I think there are a lot of people who were gaming the system, who don't really have hope of opening. A number of the people that are in the lottery now are simply in the lottery hoping to get a [number] they can sell."
Technically, they are selling their businesses, which happen to come with a marijuana license (or a good shot at one), just like a TV or radio station comes with a broadcast license or a restaurant comes with a liquor license. And just like the initial recipients of New York City's taxi medallions, the winners of Washington's marijuana lottery are enjoying a windfall thanks to legally mandated scarcity.
[Thanks to Marc Sandhaus for the tip.]