Welcome to Video Game Nation! Reason.com's Super-Special Gaming Page!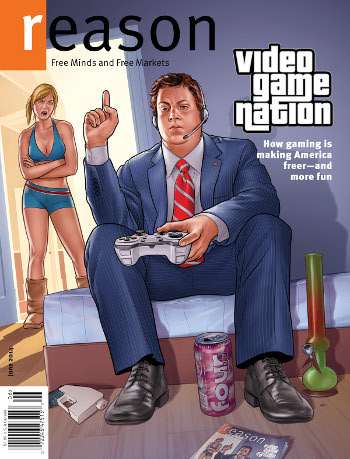 As print subscribers already know, Reason's June 2014 issue is devoted to exploring, analyzing, and discussing the political, cultural, and economic dimensions of the multi-billion video game industry.
We're happy to point you in the direction of super-special landing page that includes all the magazine's gaming-related articles plus more than a dozen web-only features and videos.
Click here now to check out a wide range of material including the following:
"The Gamer Congressman: Is Rep. Jared Polis the first in a wave of libertarian-leaning video game enthusiasts?"
"Are You an Electronic Child Molester?: 10 great anti-gaming quotes by pols and pundits."
"Gamers Against Government Meddling: Results from the Reason-Rupe Poll show gamers really dig personal freedoms."
"Video Games Every Libertarian MUST Play!"
"Are Video Games Art?: Why games should be taken as seriously as novels, films, and other forms of creative expression."
"Oculus Rift vs. the SEC"
"Why League of Legends Rules Online Gaming"
"'A Multiplayer Game Environment is Actually a Dream Come True for an Economist': Q&A with the in-house economist for Portal and Half-Life.
"FAQ: Everything you wanted to know about video games (but were too old to ask)."
Go to the special landing page now to check out these and many more articles, video, and archives.