Washington's Marijuana Regulators Pick Retail License Finalists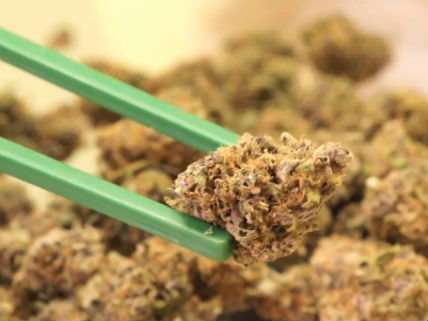 Today the Washington State Liquor Control Board (LCB), which has received more than 2,100 applications for the 334 marijuana retailer licenses it plans to award, posted the results of the lotteries it conducted to winnow down the list for each locality. The applicants with the lowest lottery numbers will be first in line for licenses, assuming they pass muster with the state. In Seattle, for instance, the LCB ranked 58 applicants (out of more than 400) by lottery. Since it plans to license 21 stores in Seattle, the 21 applicants with the lowest numbers will receive licenses if they meet the state's requirements. If any of them don't, applicants further down the list will have a chance.
Licensees will also need local approval before they can open stores. Nearly 100 cities and counties have imposed temporary or permanent bans on marijuana businesses. Washington Attorney General Bob Ferguson says those bans are permitted by I-502, the state's legalization measure. The jurisdictions with bans include Yakima, where the LCB nevertheless picked seven finalists for five licenses, and Walla Walla, where three finalists are vying for two licenses that won't be worth much. Fifty or so local governments, including Seattle, Spokane, and Tacoma, have approved interim or permanent zoning rules for cannabusinesses.
One of the retail license finalists is Scott O'Neil, manager of Pacific Northwest Medical, a dispensary in Spokane owned by Sean Green, who received Washington's first marijuana cultivation license in March. O'Neil ranks eighth on the lottery list for Spokane, which has been allotted eight cannabis outlets. He hopes to open a store at 1919 East Francis Avenue, which is also the home of Green's Kouchlock Productions. The Spokane Spokesman Review reports that O'Neil "hopes to open the store by July if he can secure marijuana from growers who are slowly being licensed." So far the LCB, which received more than 2,800 applications for cultivation licenses, has awarded 25. The LCB plans to "begin issuing retail licenses no later than the first week of July." As O'Neil tells The Spokesman Review, "The big question in the beginning is going to be getting product on the shelves."
Addendum: Some applicants have complained that they were excluded from the lottery for erroneous or mysterious reasons.
Addendum II: Green says he has signed a contract to suppy O'Neil with marijuana from Washington's first legal harvest of recreational cannabis, which he expects this month. "Scott should be the first one open," Green says, "since he will have the first product."