Snowden Asks Putin if Russia Conducts Mass Surveillance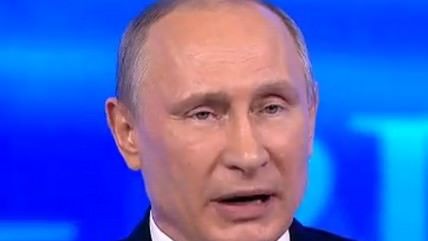 Today, National Security Agency (NSA) whistleblower Edward Snowden appeared on Vladimir Putin's annual call-in program to ask the Russian president about Russian surveillance:
Does Russia intercept, store, or analyze in any way the communications of millions of individuals? And do you believe that simply increasing the effectiveness of intelligence or law enforcement investigations can justify placing societies, rather than their subjects, under surveillance?
The first question doesn't sound much different from the question Sen. Ron Wyden (D-Ore.) asked Director of National Intelligence James Clapper in March 2013, months before the first of Snowden's revelations were published.
Putin responded (according to Russia Today's translation) that "the American version of English is a little different from the kind of English I am used to." After having Snowden's questions translated to him, Putin said that given both he and Snowden's backgrounds in intelligence he would speak to Snowden with "one professional language."
Putin went on the say that Russia does not have the technology or the money to carry out mass surveillance on millions of people and that Russia's intelligence work is "strictly regulated by our law." Putin also said that under Russian law mass surveillance "cannot exist."
Watch a video of the exchange below:
Putin's comments came shortly after Pavel Durov, the founder of "Russia's Facebook" (Vkontakte), said that the Russian Federal Security Service had demanded information on Ukraine's Euromaidan organizers. Durov refused to hand over the information.
According to Brett Logiurato at Business Insider, Snowden's appearance "has been widely seen as a PR stunt."
David Herszenhorn, a Moscow-based reporter for The New York Times, tweeted that the appearance was a "stunning in-your-face move" by the Kremlin.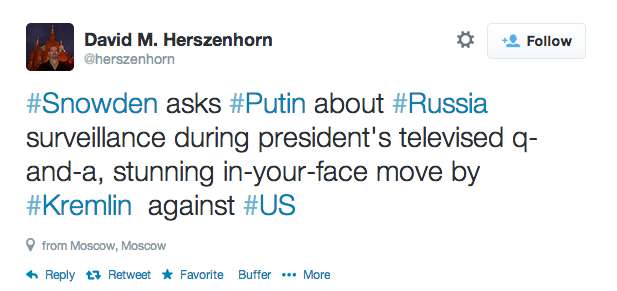 Snowden's appearance will almost certainly be used by anti-Snowden lawmakers such as Rep. Mike Rogers (R-Mich.) and Rep. Peter King (R-N.Y.).
In January, Rogers claimed Russian intelligence officials may have helped Snowden steal information from the NSA. Last month, Rogers said that he believes Snowden is "under the influence of Russian intelligence services."
In February, King said that the Russians "had to have access" to the documents Snowden took when he left the U.S. and that the Chinese "have it all, too."