DEA Administrator Says Pot Prohibition Protects Dogs; Many Dead Dogs Would Disagree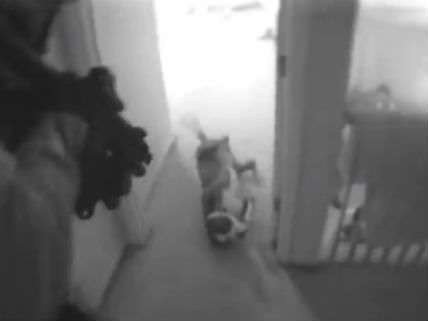 Testifyng before a House subcomittee yesterday, the head of the Drug Enforcement Administration warned that marijuana legalization is bad for dogs. DEA Administrator Michele Leonhart was not talking about the pot-sniffing canines who are out of work in Colorado and Washington now that the odor of cannabis is no longer probable cause for a search. She was talking about pets that ingest marijuana-laced snacks:
There was just an article last week, and it was on pets. It was about the unanticipated or unexpected consequences of this, and how veterinarians now are seeing dogs come in, their pets come in, and being treated because they've been exposed to marijuana. Again, it goes back to the edibles; it goes back to products that are in the household that are now made from marijuana, and it's impacting pets. We made a list of the outcomes we thought that might happen in these two states. We never thought of putting pets down.
Evidently Leonhart read a recent USA Today story in which Colorado veterinarians worry that "the increasing availability of marijuana appears to be driving an increase in pot-poisoned pets." Poisoned is a rather misleading term in this context, since "the marijuana itself isn't particularly harmful to dogs." The main concern is that marijuana, an anti-emetic, will make dogs less likely to vomit potentially dangerous foods into which it has been infused, such as butter and chocolate. According to a study by Colorado State veterinarian Tim Hackett, two dogs have "died from eating large amounts of marijuana-infused butter" since 2000, when Colorado legalized marijuana for medical use. That's one dog death every seven years. Still, marijuana legalization clearly is bad for dogs.
You know what else is bad for dogs? Marijuana prohibition:
Police Raid Berwyn Heights Mayor's Home, Kill His 2 Dogs
SWAT Team Kills Dog With Child Present, Arrest Father In Misdemeanor Marijuana Bust
Police Chase and Kill 3 Dogs in Marijuana Raid: "Like Shooting Deer"
Missouri SWAT team shoots family dog during raid over "small amount" of marijuana
Garland Police Shoot Dog in Raid That Nets One Ounce of Weed
DEA, FBI, IRS raid two Westside pot dispensaries; officers shoot a pit bull
Dog shot, S. Tahoe man arrested on pot charges
Police shoot and kill dog during Fostoria drug raid
Easton police: Man faces drug charges, pit bull shot by officers in raid
McHenry woman questions why dog shot in drug raid
Couple says their dog shouldn't have been shot during drug raid
75 YEAR OLD GRANDMOTHER HELD DOWN AT GUNPOINT ON BATHROOM FLOOR BY WAYNE COUNTY, NY SHERIFF'S DEPUTIES AND MACEDON, NY POLICE AS THEY SHOOT AND KILL HER DOG
As that last item suggests, marijuana prohibition is also dangerous to humans.
More on police and pets here.