Ukraine: 3 Developments and 1 Caveat on the Nation's Stability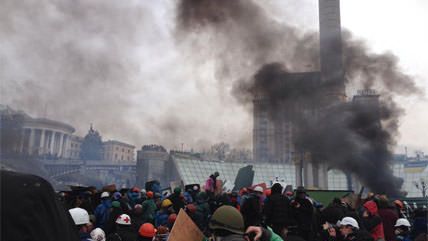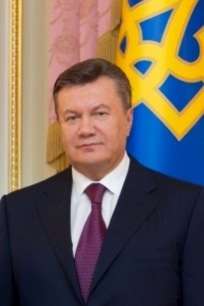 After days of bloodshed, Ukraine's government and the Euromaidan opposition have taken steps to end fighting and address some of the nation's underlying problems. Here are three major decisions they have made so far, and one caveat about the staying power of these changes:
1. The parliament stopped the troops
Last night, Ukraine's parliament convened and approved a measure to "immediately stop use of any weapons and special means against citizens" as well as "unconditional amnesty for all people detained or who might face possible persecution in the current unrest."
This is important for several reasons. First, it immediately de-escalates violence. The Interior Ministry had earlier this week allowed riot police and troops to use live rounds against protesters, and President Viktor Yanukovych was planning on deploying militarized "anti-terrorist" forces. Each time the government has used force, more people have joined Euromaidan, creating a self-perpetuating cycle of violence.
The decision also has political impact. As the Washington Post's Max Fisher analyzes, it "symbolically places Yanukovych, especially if he ignored parliament on this, outside of both the democratic processes and outside rule of law. He's stuck now – if he defies the resolution, he'll be basically labeling himself as anti-democratic, which will really badly weaken him institutionally."
2. The parliament also limited presidential power
One of the major issues that first sparked protests is a growing sense of disenfranchisement among Ukrainian citizens. Yanukovych has aggressively consolidated power for years. Shortly after he took power in 2010, the Constitutional Court of Ukraine amended the constitution to increase Yanukovych's authority.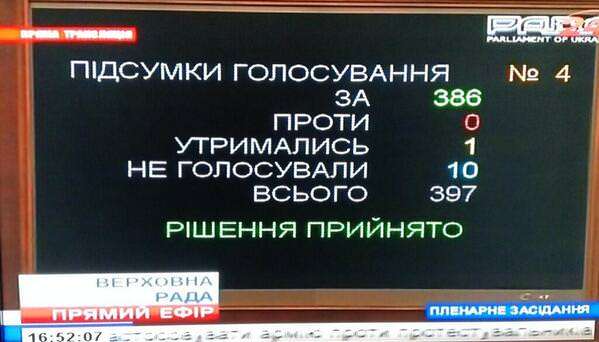 On Tuesday, opposition lawmakers attempted to reintroduce amendments from 2004, when a pro-western administration established a more limited government. The chairman of the parliament, a member of Yanukovych's party, blocked this effort, inflaming new riots.
Today, however, the parliament overwhelmingly voted in favor of these reforms. Professor Mychailo Wynnyckyj of the National University of Kyiv-Mohyla explains the power shift:
Ukraine just became a Parliamentary-Presidential republic again. This means Yanukovych still retains power over the army, and over foreign affairs (Defense and Foreign Ministers remain Presidential appointees), but the rest of the executive branch is now accountable to Parliament. A new formalized coalition majority must now be created in Parliament which will then appoint a new Prime Minister and approve all other Ministerial appointments.
3. The president agreed to early elections
While the parliament worked on those changes, Vitali Klitschko and other Euromaidan representatives met with the president for negotiations overseen by the European Union. Yanukovych signed an agreement that pushes forward Ukraine's next presidential elections from February 2015 to no later than December 2014.
Klitschko has long advocated that snap elections are needed to determine if Yanukovych is fit to rule and allow citizens a peaceful, democratic way to move the nation forward.
Polish Foreign Minister Radoslaw Sikorski, who participated in the talks, describes the resolution as a "good compromise for Ukraine" that "gives peace a chance [and] opens the way for reform and to Europe."
4. Caveat: Ukraine is not in the clear yet
Ukraine has faced unpredictable turns several times throughout this months-long affair. Tuesday's truce vaporized into the nation's deadliest days yet. This precedence makes it hard to say that Ukraine is on a definite path toward stability or regime change.
Many members of Euromaidan are adamant that Yanukovych must resign rather than have the chance to run again. If the various factions of the opposition do not remain unified and Yanukovych is reelected, renewed violence is not out of the question.
The opposition's successes in parliament aren't set in stone, either. As Wynnyckyj writes, "currently their factions do not formally have enough votes in Parliament to create a coalition. If [Yanukovych's party] can be re-instated as a monolithic entity, and then a deal struck with the Communists and some independents, the new majority may be just as pro-Yanukovych."
Read more Reason coverage of Ukraine's revolution here.