Yes We Cannabis!: Obama's Best Shot at a Legacy is Ending the War on Pot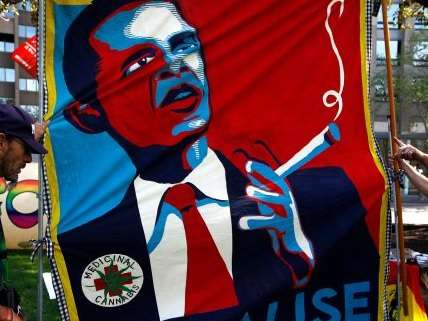 You're a second-term president and your health-care plan is imploding, your economic policies have come a cropper, and your overseas adventures are anything but sucessful.
Oh yeah, and you've seen your support among younger voters and civil libertarians plummet in the wake of all sorts of revelations about government snooping (which you signed off on).
But there is one thing that Barack Obama could do to salvage what is shaping up to be the worst two-term presidency since…George W. Bush's:
Declare a swift and honorable peace in the decades-long war on pot. The drug war in toto has been a long-running and ineffective disaster that disrespects individual autonomy, corrupts law enforcement, and undermines the rule of law. By ending the war on pot, he would be remembered as a true visionary.

It wouldn't be hard. Focus on the issues of fairness and basic common sense that already have fully 58 percent of Americans in favor of legalization….

If Obama announced that he was de-prioritizing the federal government's war on pot—not even on all drugs, but just marijuana—he would almost certainly be joined by a growing number of libertarian Republicans who think drug policy is a state-level issue. Indeed, if Obama framed the issue explicitly in federalist terms, he could likely count on the support of characters such as Sen. Rand Paul of Kentucky and Rep. Justin Amash of Michigan….

If Obama really thinks pot is no more dangerous than alcohol and that the war on pot systematically screws over minorities, why should he have any hesitation in liberalizing the federal policies over which he has control? And using the bully pulpit to push for broader legislative change at the federal and state level? What is he waiting for, a third term?
That's from my latest column for The Daily Beast. Read the whole thing.