Oklahoma Town Bans E-Cigarettes on Public Property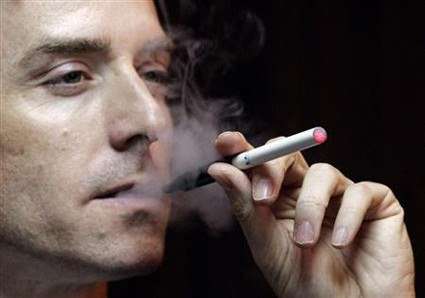 In an attempt to mitigate the dangers of smoking, one Oklahoma town passed a surprising ordinance last week to ban the use of smokeless e-cigarettes on public property.
The ordinance, which was approved by the Ada City Council and will go into effect in November, bans the public use of traditional tobacco products as well as electronic cigarettes. Residents will soon be forbidden from lighting up—or vaping—on all government-owned property, ranging from parks to indoor and outdoor government facilities. Offenders could be fined up to $500 for violating the ban.
In an interview with local news station KWII, Angela Harjo, the Tobacco Prevention Coordinator for the Pontotoc County Health Department, explained the motivation for banning public use of e-cigarettes:
[E-cigarettes have] far less carcinogens, and we're not saying to completely outlaw or ban [them]. We're just asking to treat them as a tobacco product and limit the exposure and second hand exposure, especially exposure to our youth.
Ada City Councilman Bryan Morris said that while the ban is about "being considerate to those in parks and other public places," the city could receive a $100,000 grant from the Oklahoma Tobacco Settlement Endowment Trust for including e-cigarettes in the ordinance.
Ada's new law is hardly an anomaly. Increasing numbers of town councils are passing ordinances that heavily regulate the sale, purchase, or public use of the smokeless, tobacco-less, tar-less e-cigarettes. The FDA, which considered completely banning e-cigarettes in 2009, is expected to propose extensive regulations for them by the end of this month.
Why are cities and health agencies cracking down on e-cigarettes? As Reason's Jacob Sullum has extensively reported, such regulations fail to accurately account for their real (relatively harmless) risks:
Even the U.S. Centers for Disease Control and Prevention (CDC)… concedes "e-cigarettes appear to have far fewer of the toxins found in smoke compared to traditional cigarettes." Boston University public health professor Michael Siegel, who supports vaping as a harm-reducing alternative to smoking, notes that "we actually have a much better idea what is in electronic cigarette vapor than what is in tobacco smoke."
As a result, Sullum wrote, imposing these regulations could be seriously hazardous to smokers' health:
Survey data indicate that e-cigarette use is overwhelmingly concentrated among current and former smokers.

It's in the shift from the former category to the latter that the disease-reducing potential of e-cigarettes lies. Impeding that transition by imposing arbitrary restrictions on e-cigarette advertising, sales, and flavors would be a literally fatal error.
For more Reason coverage of e-cigarettes, watch a Reason TV interview with the CEO of e-cigarette maker NJOY here. Watch a Reason TV video on the heavy price of FDA regulations below: