Florida Woman Marissa Alexander Who Fired Warning Shot Gets New Trial Instead of 20 Years Prison
From USA Today, update on a story of a non-lethal defensive gun use that led to 20 years in prison that struck many as a less than just outcome: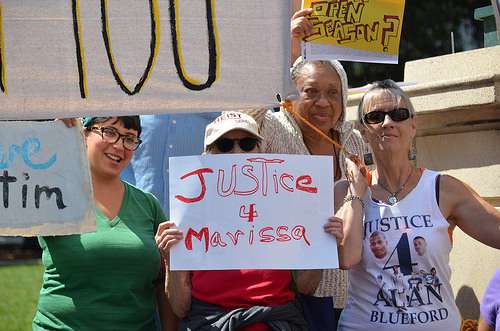 A Florida appeals court is ordering a new trial for a woman sentenced to 20 years to prison after she fired a warning shot in a wall during a dispute with her husband.

The 1st District Court of Appeal ruled that a judge did not properly instruct the jury handling the case of Marissa Alexander.

But the appeals court did also state that the judge was right to block Alexander from using the state's "Stand Your Ground" law as a way to defend her actions.
Slate has more details on the nature of the improper jury instruction:
Judge James H. Daniel ordered a retrial, arguing that Alexander had been held to too high a standard to prove self-defense. "The defendant's burden is only to raise a reasonable doubt concerning self-defense," he wrote…."The defendant does not have the burden to prove the victim guilty of the aggression defended against beyond a reasonable doubt.
Jacob Sullum wrote about this for us back in May. He wrote about the details behind Alexander's decision to fire a gun:
[Rico] Gray has been arrested twice for domestic battery, including an assault that sent Alexander to the hospital. In September 2009 Alexander obtained a protective order against Gray that was still in effect on August 1, 2010, when he flew into a jealous rage after discovering, while poking through her cellphone, that she had sent pictures of their newborn daughter to her first husband.

Alexander was in the master bathroom at the time, and Gray tried to force his way in. When she came out, he screamed and cursed at her while preventing her from leaving the bedroom. "I was like forcing her back with my body," reported Gray, who is seven inches taller than Alexander and outweighs her by 100 pounds.

When Alexander managed to get by, she ran through the kitchen to the garage, where she says she realized she did not have the keys to her car, could not call for help because she had left her cellphone behind, and could not escape because the garage door was not working. Instead she grabbed her handgun from her car and headed back through the kitchen, where Gray confronted her again.

In his deposition Gray admitted he "had told her if she ever cheated on me I would kill her" and during the fight said, "If I can't have you, nobody can." He conceded he "was going towards her" when Alexander fired a single shot, high and to his right, that went through the kitchen wall and lodged in the ceiling of the living room.
Certainly given that Ms. Alexander harmed no one, the original sentence—mandated by mandatory minimum laws for "aggravated assault with a deadly weapon"—seems excessive.