"The Wacko Birds Take Flight": Nick Gillespie on Ted Cruz's Ongoing Speech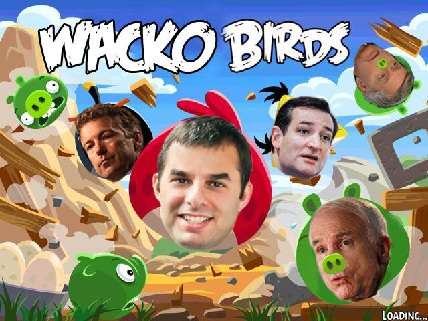 I've got a new column up at The Daily Beast about Sen. Ted Cruz's ongoing speech against Obamacare. Here's some snippets:
So what exactly [is] Cruz doing up there, hogging the limelight on C-SPAN's low-wattage webstream for a couple of hours, if he wasn't serious about stopping Obamacare? He was playing his part in a pretty goddamned brilliant strategy to win the future not for himself but for the Republican Party….

The wacko bird caucus overlaps pretty well with the Tea Party. Besides Cruz and [Sen. Rand] Paul [R-Ky.], it includes such characters as Sens. Mike Lee (R-UT) and Marco Rubio (R-FL) and Reps. Justin Amash (R-MI) and Thomas Massie (R-KY). Despite meaningful differences among them, they all support cutting federal spending and taxes, and reducing regulations on business and other economic activities. Unlike many members of the GOP, they are critical of the national surveillance state and, at least in the cases of Paul and Amash, are principled non-interventionists who arequick to question the Pentagon budget….

There's no question that these two wacko birds, and the others in that small and growing nest, are pulling in the same direction even as they are courting different audiences. They've shown that they can work together, and they've shown that they're not standard-issue Republicans but true believers in limited government. In a country where six of 10 voters already think the government is too big, the wacko bird caucus has got a lot of room to fly.
I argue that Cruz and Paul represent the two wings (conservative and libertarian respectively) of a potential small-government movement that has enormous potential to move the country toward limiting the size, scope, and spending of Washington. The key to remember, especially for those of us who are libertarian, is that these two guys are speaking to vastly different audiences. But to simply write off Cruz as an egomaniacal grandstander who's only in it for the money is to miss what's really driving the ascendance of the wacko bird coalition.