A.M. Links: Ted Cruz is Still Talking Obamacare, US Drone Base Moving Out of Djibouti, Rare Photograph of Abraham Lincoln Discovered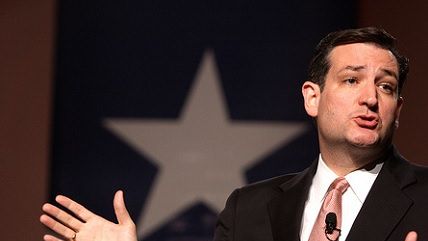 (Gage Skidmore/Foter.com)
Library of Congress

Ted Cruz started his non-filibuster speech on the Senate floor against Obamacare yesterday and is still talking. Some Republicans are worried the strategy will backfire.

Forty state attorneys general wrote a letter to the FDA urging the agency to regulate e-cigarettes, for the children.
Disney World canceled a program that let disabled children get in front of lines after an outcry over the resale market for those privileges.
A series of drone crashes there have forced the US to move its fleet out of Djibouti.
Iran's new president avoided the anti-Israeli rhetoric that was typical of his predecessor at his first UN speech, but the Israeli delegation walked out anyway. On the sidelines, Hasan Rouhani met with the French president but not with President Obama.
A joint statement by eleven Islamist rebel groups in Syria rejects the authority of the National Coalition, the main rebel umbrella group in the country.
Canada and Japan agreed in principle on setting up a Canadian military logistics base on Japanese territory.
The death toll in Pakistan's magnitude 7.7 earthquake has risen to at least 230.
A shipment of gold headed from Paris to Zurich on an Air France flight arrived 44 kilograms short. Authorities suspect the apparent theft was an inside job.
A former Disney animator has found the second photograph of Abraham Lincoln at Gettysburg ever discovered. The animator said when he discovered the blurry image he felt like he knew Lincoln and that the former president was a good man.
Follow Reason and Reason 24/7 on Twitter, and like us on Facebook. You can also get the top stories mailed to you—sign up here. Have a news tip? Send it to us!