Attn DC Reasonoids: Nick Gillespie Discusses Kevin Williamson's New Book at Cato Today (Free Lunch)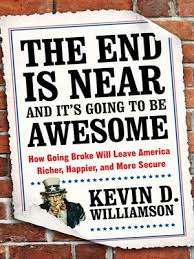 That headline above is a classic case of burying the lede.
In any case, I'm excited to be one of the discussants of Kevin Williamson's new book, The End is Near & It's Going to be Awesome!: How Going Broke Will Leave America Richer, Happier, & More Secure, at Washington's Cato Institute. Lunch follows.
If you're in the DC area, come on out (and RSVP details). If you can't make it, the show will stream live at Cato's website.
Details:
The End Is Near and It's Going to Be Awesome: How Going Broke Will Leave America Richer, Happier, and More Secure

Featuring the author Kevin D. Williamson,National Review; with comments by Nick Gillespie, Editor in Chief, Reason.com and Reason TV; and Michael Tanner, Cato Institute.

Cato Institute
1000 Massachusetts Ave, NW
Washington, DC 20001-5403

Phone (202) 842 0200

Fax (202) 842 3490