Colorado Legislators Drop Plans to Cancel Marijuana Legalization As Tax and Regulation Bills Advance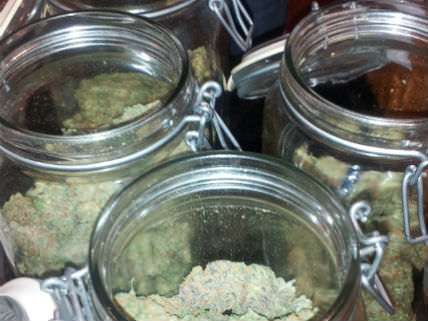 The Denver Post reports that talk of making marijuana legalization in Colorado contingent on voter approval of cannabis-specific taxes has died down in the state legislature, which has less than a week left in its current session. Because the proposal involved erasing part of the state constitution (Amendment 64, the marijuana legalization measure that voters approved last November), it would have needed approval by two-thirds of legislators before being submitted to voters. Furthermore, according to a legal analysis commissioned by supporters of Amendment 64, the repeal measure could not legally appear on the ballot this fall, since odd-numbered election years in Colorado are reserved for initiatives dealing exclusively with taxes. Legalization advocates criticized the proposed initiative as an attempt to override the will of the majority (although it would have taken effect only with another majority's approval). The legislators who floated the idea argued that Amendment 64 passed largely based on promises of revenue from marijuana taxes. If that money fails to materialize, they said, legalization should be canceled, especially since regulation of the marijuana industry will require new revenue.
Toward that end, on Tuesday the Colorado House of Representatives gave final approval to H.B. 1318, which establishes a 15 percent excise tax and a 10 percent special sales tax on marijuana, pending voter approval in November (as required by Colorado's Taxpayer Bill of Rights). The latest version of the bill available from the legislature does not include an amendment that reduced the sales tax from its originally proposed level of 15 percent. Republicans voted against the bill because they still thought the tax rates were too high, risking rejection by voters. This week the House also gave final approval to H.B. 1317, a companion bill that establishes guidelines for regulation of mariijuana growers and sellers by the Colorado Department of Revenue, which is charged with writing specific rules by July 1. Both bills still have to be approved by the state Senate.
In a recent letter to House and Senate leaders, Gov. John Hickenlooper, and Attorney General John Suthers, four law enforcement groups (the Colorado Association of Chiefs of Police, the Colorado District Attorneys Council, the County Sheriffs of Colorado, and the Colorado Drug Investigators Association) worry that the final legislation will omit provisions they favor. They warn of "the potential for the passage of marijuana laws which are a grave disservice to the public," decrying a "concerted effort to continue to undermine law enforcement efforts to keep our youth safe and stop diversion." In particular, the cops and prosecutors are worried that an unfair, arbitrary new standard for driving under the influence of marijuana—which was approved by the House as a stand-alone bill on April 5, tabled by a Senate committee on April 22, and revived by the House as an amendment to H.B. 1317 on April 24—will be killed by the Senate again. They also complain that H.B. 1317 does not mandate money for training officers to identify stoned drivers or for research on the health and public safety consequences of legalization. The cops and prosecutors sent a copy of their letter to John Walsh, the U.S. attorney for Colorado, suggesting that if they don't get their way they will invite federal interference with the execution of a constitutional amendment they all have a duty to enforce.
Another issue raised by the law enforcement groups is the definition of child endangerment vis-á-vis marijuana. A bill the Senate is considering, S.B. 278, would allow a finding of abuse or neglect when a child's health or welfare is endangered by an adult's marijuana cultivation or consumption. The bill includes an assurance that it does not authorize an investigation based solely on marijuana growing, possession, or use that is legal under Amendment 64. Nor does it explicitly equate production or consumption of marijuana in the presence of a minor with child endangerment, although it says "the unrestricted access to the controlled substance by a child may establish endangerment," which "may also be established by other circumstances when a child's health or welfare is threatened by the drug activity." Still, I can think of no logical reason to distinguish between alcohol and marijuana, both of which are now legal in Colorado, with respect to child endangerment. There is no need for a special provision dealing with people whose beer drinking or home brewing endangers children, because evidence of endangerment is still required to make a case. So why have a special provision that covers marijuana, unless the aim is to create a presumption of abuse or neglect?