Colorado's Marijuana Task Force Pushes Bad DUID Law, Pot Protectionism, Heavy Taxes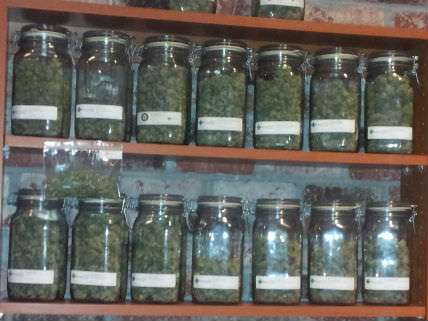 The final report of the Amendment 64 Implementation Task Force, which was appointed by Colorado Gov. John Hickenlooper to advise the state legislature on how best to regulate recreational marijuana, recommends passage of a bill that would allow DUID convictions based on nothing more than blood test results showing a THC concentration of five nanograms per milliliter. As I explained earlier this month, that "permissible inference" policy, while not as bad as a per se standard, is still scientifically unjustified and apt to result in the conviction of unimpaired drivers.
The task force's report, which was issued today, also recommends that licenses for growers and retailers be limited to Colorado residents, which would seem to rule out participation by entrepreneurs from other states. It says current medical marijuana providers should be allowed to continue serving patients even if they decide to get into the recreational market (where they would have first dibs on licenses), as long as they keep inventories for the two businesses "separate and distinct." It suggests a "reasonable per?transaction limit of less than one ounce [the maximum adults 21 or older may possess] for all purchases" and "more restrictive purchase limits for non?residents," although it is hard to see how the latter can be enforced, since Amendment 64 forbids the state to demand information from buyers beyond their age.
The task force says "smoking of marijuana" should be banned not only in the bars and restaurants covered by the Colorado Clean Indoor Air Act but also "in 'cigar bars,' smoking clubs or [other] establishments where tobacco smoking is allowed." It also wants the legislature to prohibit open packages of marijuana in vehicles. It justifies both recommendations by referring to Amendment 64's ban on marijuana consumption "that is conducted openly and publicly or in a manner that endangers others."
As for people younger than 21, who are not allowed to possess marijuana under Amendment 64, the task force recommends making possession of less than an ounce by 18-to-20-year-olds "a civil charge with treatment and conditions to be established by a judge." For minors, it prescribes "education and treatment without the consequences of a conviction because of a petty offense, which could result in detention or commitment to youth corrections."
Here are some of the other major recommendations (which I have previously reported):
Pot stores must get local as well as state approval.
Current medical marijuana centers (MMCs) should have a one-year monopoly on the recreational market.
Marijuana stores must grow at least 70 percent of what they sell and transfer no more than 30 percent of what they grow to other stores or manufacturers of cannabis-infused products. That "70/30" rule, which many MMCs lobbied to keep, would expire after three years, at which point the legislature could choose a more flexible approach.
The legislature should propose both a 15 percent excise tax (collected at the wholesale level) and a special marijuana sales tax (collected at the retail level), both of which would have to be approved by voters.
Visitors as well as Colorado residents should be allowed to buy marijuana (as long as they are 21 or older).
Marijuana should be sold in "child-resistant packaging."
Labels should indicate THC content, and the state should establish "rules for edible marijuana-infused products to prevent accidental over?consumption—e.g., by saying that "a serving should not have more than 10mg of active THC."
The current session of the Colorado General Assembly ends on May 8, so the legislature has eight weeks to act on these recommendations and create the statutory basis for regulation of cannabis businesses by the Department of Revenue, which is supposed to write its rules by July and start accepting license applications by October. Barring federal intervention, marijuana stores serving the recreational market are expected to start opening early next year.
The task force's complete report is here. Previous coverage of the task force's recommendations here. Reason TV's story about implementing Amendment 64: