Most Washington Voters Still Support Marijuana Legalization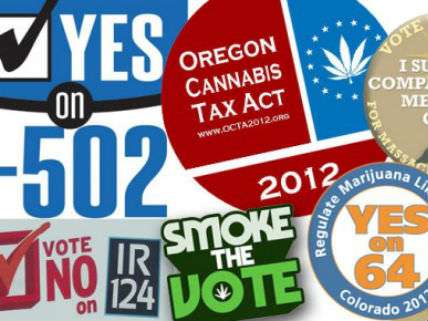 With two weeks to go until Election Day, recent polls indicate that Washington's I-502, which would legalize production and sale of marijuana for recreational use, is still favored by most voters, although its advantage may be shrinking. A SurveyUSA poll released last week put support at 55 percent, down from 57 percent in two polls by the same organization last month, with 36 percent opposed and 8 percent undecided. The results of a Strategies 360 poll released yesterday were similar: 54 percent yes, 38 percent no, and about 7 percent undecided. The least encouraging numbers come from a KCS9 Washington poll conducted in the first half of this month, which show 51 percent of registered voters supporting I-502 and 41 percent opposing it.
The most recent survey in Colorado shows that state's marijuana legalization measure, Amendment 64, falling short of a majority, with 48 percent in favor and 43 percent against. As it has all along, Oregon's legalization initiative, Measure 80, is drawing the least support: 36 percent in a SurveyUSA poll released last week, compared to 43 percent opposed and 21 percent undecided.
"Washington is emerging as the most likely state to be the first to legalize marijuana," The Seattles Times reports. "But even with a huge fundraising advantage and less organized opposition, Initiative 502 is far from a lock as voters begin casting ballots."