12-Year-Old Girl Has Second Degree Burns From SWAT Flash Grenade Detonated During Wrong-Door Raid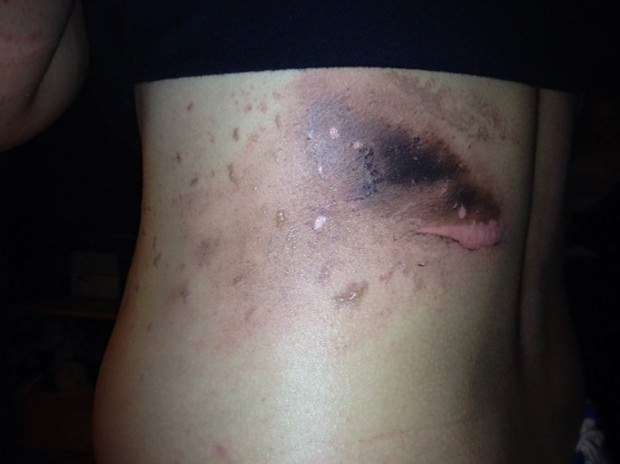 A 12-year-old girl in Billings, Montana, is suffering first and second degree burns on half her body after a SWAT team dropped a flash bang grenade next to her bed during a wrong-door drug raid on Oct. 9.
The Billings Police Department claims that the officer who detonated the grenade inserted it through the girl's bedroom window on a pole, and was supposed to detonate it while holding it up in the air. He mistimed the explosion however, and ended up dropping the live flashbang next to the girl's bed.
Jackie Fasching, the girl's mother, told The Missoulian that her daughter is in "severe pain." Fasching also told the paper that the officers didn't need to burn her daughter, or destroy her house, to conduct their investigation:
"A simple knock on the door and I would've let them in," she said. "They said their intel told them there was a meth lab at our house. If they would've checked, they would've known there's not."
Mr. Fasching, the report says, attempted to open the door seconds before SWAT officers battered it down. After the raid was over, no charges were filed and no arrests were made. Taken together, this information suggests that the Billings Police Department made several mistakes, ranging from burning a child to raiding the wrong house. A spokesperson for the department, however, says they had every reason (and right) to do what they did:
"The information that we had did not have any juveniles in the house and did not have any juveniles in the room," he said. "We generally do not introduce these disorienting devices when they're present."

"Every bit of information and intelligence that we have comes together and we determine what kind of risk is there," St. John said. "The warrant was based on some hard evidence and everything we knew at the time."

But Fasching said the risk wasn't there and the entry created, for her and her daughters, a sense of fear they can't shake.

"I'm going to have to take them to counseling," she said. "They're never going to get over that."

A claims process has already been started with the city. St. John said it's not an overnight process, but it does determine if the Police Department needs to make restitution.

"If we're wrong or made a mistake, then we're going to take care of it," he said. "But if it determines we're not, then we'll go with that. When we do this, we want to ensure the safety of not only the officers, but the residents inside."

No arrests were made during the raid and no charges have been filed, although a police spokesman said afterward that some evidence was recovered during the search. St. John declined to release specifics of the drug case, citing the active investigation, but did say that "activity was significant enough where our drug unit requested a search warrant."
Happy Friday.