Chicago's Disgusting New Food Truck Regulations
The Windy City's treatment of mobile food vendors is a case study in how to stifle entrepreneurship and innovation in the name of protecting powerful, entrenched interests.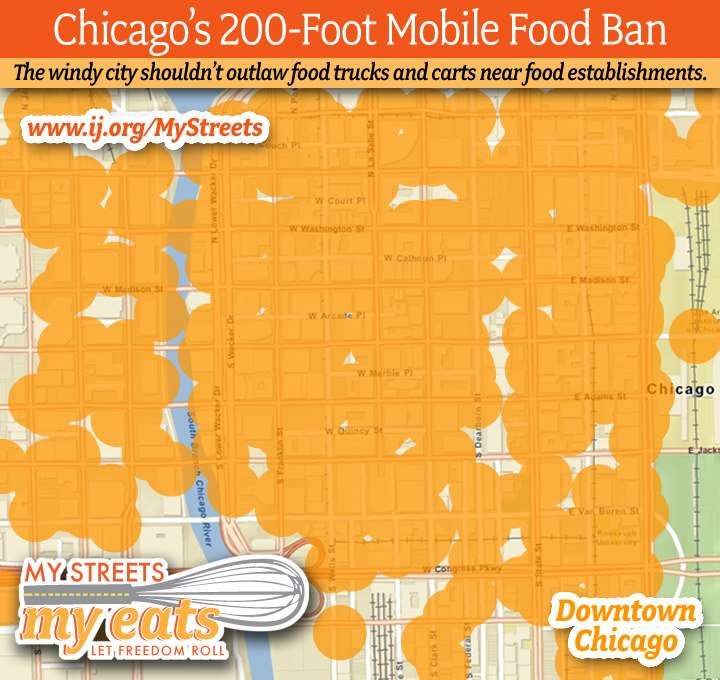 This week Chicago's city council voted 44-1 in favor of adopting new rules for regulating food trucks in the city.
When a terrible and stifling set of outdated regulations like Chicago's is replaced, one might expect it to be cause for celebration among those who had suffered under the old rules.
And it's true that supporters of mobile vending in Chicago are pleased the new regulations will allow trucks to extend their operating hours and will finally legalize the preparation of fresh food on trucks—something the previous rules did not. This had meant all food had to be prepared in advance and kept warm on the trucks. This was not only difficult and challenging from a culinary perspective but was a legally mandated food-safety nightmare waiting to happen.
But if the ugly old rules are dead, prepare to meet their zombie successors.
These nefarious new regulations mandate that food trucks stay at least 200 feet away from restaurants—a near impossibility in downtown Chicago, as the handy graphic at right produced by the Institute for Justice illustrates.
"Our map showed the Loop, Chicago's downtown area, where there are hardly any slivers that are safely 200 feet away from a restaurant," says Beth Kregor, director of the Institute for Justice Clinic on Entrepreneurship at the University of Chicago Law School, which provides free legal advocacy and assistance for low-income entrepreneurs in Chicago—including many food truck owners and operators. "The chance of finding a legal parking spot in one of those slivers is almost non-existent."
The new rules also require food trucks to submit to constant GPS monitoring. Violations of the proximity restriction or other rules carry harsh fines of up to $2,000—a staggering fine for a small business.
Food truck owners and supporters are angered.
"While it will be great that I can now put salsa on my bao tacos or even cook on board, what good does cooking do for me if I don't have anywhere to park and sell my food," wonders Amy Le, co-owner of the DucknRoll food truck and co-founder of the new Illinois Food Truck Association.
"At the end of the day, I just want to sell my banh mi and tacos without fear that I'm going to be slammed with a $2,000 ticket for parking 195 feet from a restaurant," says Le. "And I don't appreciate that the city feels the need to put an ankle bracelet on us with their GPS requirement."
"I love the fact that the city is now allowing truck owners to cook on board and operate longer hours," says Richard Myrick, the Chicago-based editor of Mobile Cuisine Magazine and author of the forthcoming book Running a Food Truck for Dummies, "but with the added location restrictions, GPS requirements and increased fines, I am concerned that truck owners are going to find it more difficult to make a profit from day to day."
"Chicago's new ordinance that allows cooking on trucks is a step in the right direction," says Matt Geller, who leads the Southern California Mobile Food Vendors Association and who is one of the leading authorities nationwide on mobile vending regulations. "Unfortunately, their 200 foot prohibition harms both the consumer and the burgeoning industry Chicago is trying [to] support."
(Article continues below video "Food Trucks vs. The Establishment.")
Others outside the industry appear equally disgusted by the new regulations.
The Chicago Tribune editorial board blasted the new rules, writing that they appear "designed to contain the food truck trend, not to nurture it."
Alderman John Arena, who cast the lone vote against adopting the regulations, referred to the rules as nothing more than a "[r]estraint of trade."
And that they are.
"We see no health or safety justification behind the 200-foot rule, and the city has never offered one," says Kregor. "The only explanation for the rule is the restaurants' demand for protectionism and the city government's deference to those demands."
That's no exaggeration. Even supporters of the new regulations freely admit they're designed to protect brick-and-mortar restaurants.
"We want food trucks to make money, but we don't want to hurt brick-and-mortar restaurants," says Alderman Walter Burnett.
One bright spot? The brick-and-mortar restaurant community is hardly lined up in unison behind the discriminatory new rules, as an informal survey of four leading chefs in the Windy City illustrates.
Another reason for optimism is the involvement of IJ and its entrepreneurship clinic, which hosted a fantastic symposium on the mobile-vending regulatory climate in the city, My Streets, My Eats, at the University of Chicago School of Law this past April. (I served as a panelist at the conference.)
So what's next for IJ and Chicago's food trucks? Outreach? Education? Advocacy? More appeals to reason and fairness?
"We are taking a hard look at the new rules to figure out our next steps," says IJ's Kregor, "which might involve further advocacy for amendments or a lawsuit or both."
That echoes something Bert Gall, a senior IJ attorney, said when asked at the April conference why the group hadn't yet sued the city of Chicago over the lousy old rules.
"Chicago is definitely a potential litigation target for us," Gall responded at the time.
Positive change—however it arrives—can't come soon enough for some who, like Le, have poured their hearts and savings into building a thriving food-truck scene in Chicago.
"Despite all that has happened, I still believe that this is possible," says Le. "I don't think this is going to be an easy road (no pun intended) but we will exhaust[*] all our options in order to protect the livelihood of the existing trucks and those to come."
"We made our dreams our reality, and the city has turned it into a nightmare."
[*] Pun intended?
Baylen J. Linnekin, a lawyer, is executive director of Keep Food Legal, a Washington, D.C. nonprofit that advocates in favor of food freedom—the right to grow, raise, produce, buy, sell, share, cook, eat, and drink the foods of our own choosing.