Anaheim Police Deals with Community Upset at Their Propensity for Shooting at Them By Shooting at Them Even More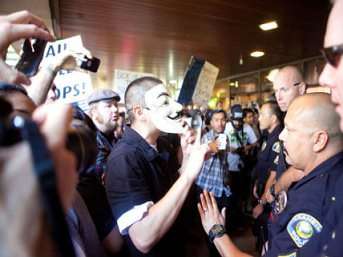 Last night we linked out to the a live stream by journalist Tim Pool as he followed police through downtown Anaheim dispersing protestors who had gathered outside a City Council meeting to protest two recent fatal police shootings. Just as they had done over the weekend when confronted with angry community crowds, police fired into protesters, seemingly indiscriminately, this time using pepper balls and bean bags. Pool reported being shot at multiple times, even while holding his hands up in submission and trying to show his press pass. (His videos have all been saved and posted on his page)
Now that this protest is over (and I'm going to take a wild guess that it won't be the last), let's take a look at the damage. Via the Orange County Register:
More than 20 people were arrested as a crowd of 1,000 protesters clashed with police and damaged businesses in downtown Anaheim during a fourth day of unrest over two fatal officer-involved shootings this weekend.
During a news conference Wednesday morning at police headquarters, Anaheim police Chief John Welter said they will "not allow riotous, dangerous violations of the law by anyone. We will protect innocent people from being injured and property from being damaged."

At least six people were injured during the violent protest, with crowds setting trash fires, smashing windows at about 20 downtown businesses and throwing rocks and other projectiles at officers in riot gear who deployed bean bags and pepper balls at demonstrators refusing to disperse.

The Anaheim Police Department and City Hall were also damaged. A damage estimate was not immediately available.
Two Register reporters were also injured. One was hit by a rock and one in the foot by an unidentified "projectile," which makes it sound like he was shot by police but they are declining to say as much.
It's also not clear to me, either from news coverage or Pool's stream, whether the vandalism or fires started by the protestors began before or after the police started shooting at them. (This video looks like it came after the police started moving in on them, but I can't be sure)
As for the actual two fatal police shootings that led up to the clash, Anaheim's City Council voted Tuesday to invite federal investigators to examine both cases. It will be interesting to see, in the wake of the protests and successful recall election in Fullerton following the beating death of Kelly Thomas, how seriously Anaheim's leadership treats community anger.
The mother of Manuel Angel Diaz, the man shot and killed by police while running away from them, is suing for $50 million. The Anaheim Police Association has done exactly what police unions do:
One of the officers had recognized Diaz as a known gang member and saw him holding a "concealed object" in his waistband with both hands, according to the police association. He ignored their orders to stop running, then pulled the object from his waistband and turned toward the officers, the association said.

"Feeling that Diaz was drawing a weapon, the officer opened fire on Diaz to stop the threat," the association said in its statement. Anaheim police said after the shooting that Diaz was not armed; the association declined to say what the object that the officer reported seeing was.
In the second shooting, the day after Diaz was killed, Joel Matthew Acevedo fled from police following a short chase of a stolen vehicle, according to the police association. Acevedo then allegedly turned and fired on police, who then fired back. A handgun was recovered next to his body.
I'll be talking again about the case and last night's protests on Russia Today around 4 p.m. Eastern (1 p.m. Pacific).