Obamacare's Unenforceable Linchpin
The mandate to buy health insurance becomes an easily avoided tax.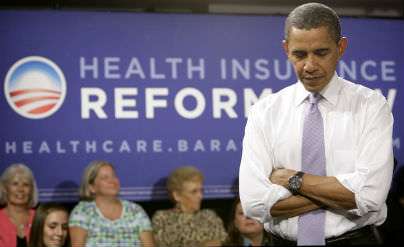 Last week the Republican-controlled House of Representatives voted to repeal the Patient Protection and Affordable Care Act, a.k.a. Obamacare. It was the 33rd such vote taken by the House and, since Democrats control the Senate, no more likely to be successful than the first 32.
The day before the vote, however, the House Ways and Means Committee heard testimony that highlighted another, more promising way to override the health care law: Americans can refuse to comply with its command that they obtain government-approved medical coverage, which the Supreme Court has deemed a mere suggestion even though it is essential to the legislation's goals. Furthermore, if Obamacare objectors take a simple precaution, they can opt out without paying the prescribed penalty.
Obamacare requires insurers to take all comers and charge them the same rates, regardless of health. Those rules create two problems that reinforce each other: They raise premiums, and they encourage people to delay buying medical coverage until they're sick.
As more healthy people go without insurance, rates rise further to make up the difference, which encourages more people to go without insurance, which increases rates further still. To avoid such a "death spiral," Obamacare commanded young, healthy people to "maintain minimum essential coverage" as defined by the government, thereby subsidizing the medical expenses of older, sicker people.
But in upholding this mandate last month, the Supreme Court said it could not be justified under the Commerce Clause, instead redefining it as an exercise of the tax power. It is perfectly legal to go without the health insurance that Congress thinks you should have, the Court said, as long as you pay the "tax" imposed on people who reject the government's recommendation. That interpretation creates new challenges for Obamacare.
"For most Americans," the Court observed, "the amount due will be far less than the price of insurance." Someone earning $50,000 a year, for instance, would be subject to a penalty of about $1,000 in 2016, when the tax takes full effect. A 2011 eHealth study found the average price for an individual policy was $2,200, a number that's apt to rise under Obamacare's minimum coverage requirements, which ban no-frills, high-deductible health plans. As the Court noted, "It may often be a reasonable financial decision to make the payment rather than purchase insurance."
Even paying the penalty is effectively optional, because Congress, for political reasons, barred the Internal Revenue Service from using its most effective tools—liens, forfeiture, and prosecution—to collect it. As the Associated Press recently explained, the IRS, confronted by uninsured taxpayers who refuse to pay the penalty, must instead resort to "scary letters and threats to withhold tax refunds."
How effective will those letters be once taxpayers realize the threats are empty? They can even avoid having the money taken out of their refunds by adjusting their withholding or estimated tax payments so that they come out even (or owe a little) at the end of the year. In practice, no refund means no penalty.
After Obamacare was enacted in 2010, the Congressional Budget Office projected that some 4 million Americans would choose to pay a penalty in 2016 rather than comply with the health insurance mandate. Testifying before the House Ways and Means Committee last week, Steven G. Bradbury, who headed the White House Office of Legal Counsel under George W. Bush, argued that number "will be considerably greater" once people understand they have no legal obligation to buy coverage. In fact, since the penalty is essentially unenforceable, it is possible that it won't produce any revenue to speak of, which would make it an odd tax indeed.
Bradbury suggested that Congress might react to such widespread disobedience, which could make Obamacare financially unsustainable, by increasing the penalty and authorizing the IRS to use more-intimidating tools. But that would reveal the coercive nature of the "minimum essential coverage" provision and the implausibility of viewing it as anything other than an unconstitutional order.
Jacob Sullum is a senior editor at Reason and a nationally syndicated columnist. Follow him on Twitter.