William Shatner Pantsed by TSA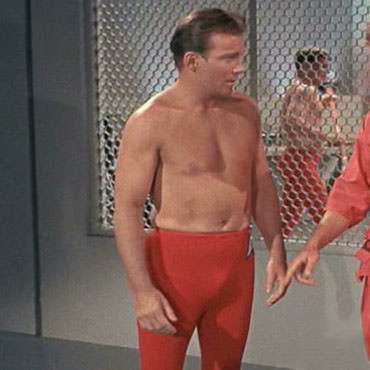 Known Canadian William Shatner, revered by generations of audiences the world over for his electrifying lead performances in Star Trek, T.J. Hooker, Boston Legal, The Twilight Zone and countless other standards of modern popular culture (and, you'd think, a person famous enough that even TSA agents in L.A. County would recognize him as a passenger with a low-risk terrorist profile), was humiliated by federal security agents while trying to fly out of Los Angeles International Airport. From the Toronto Sun, all Commonwealth usages in original:
Star Trek legend William Shatner was left nursing a bruised ego when his trousers fell down during an airport security check in front of dozens of fellow travellers.

The actor was queuing at Los Angeles International Airport to catch a flight to South Africa when he was singled out for a search by officials.
More from Inquisitr.com:
The actor, who was in the process of boarding a flight to South Africa was singled out by security for a check, and that's when things got embarrassing for the actor. Shatner decided not to wear a belt to hold his pants up, which is said to be the number one leading cause for pantsing strangers in an airport. The pants fell down and according to people there, exposed the actor's underwear.

While recounting the incident at LAX Shatner went on to say, "It was awful to have people looking at me with my pants down, probably the most embarrassing thing that's ever happened to me… It was a long flight so I wanted to wear loose clothing because I didn't want anything to bind me."
He's lucky they didn't steal anything out of his luggage.
It's a negative tribute to the Transportation Security Administration that TSA thugs were able embarrass a man who kept his dignity through both Kingdom of the Spiders and a recent senior moment during which Shatner tried unsuccessfully to ad-lib his way out of an insulting remark he'd made about a resort on the UK's Devon coast:
Shatner, 81, dropped his clanger while he was appearing as guest host on the BBC's satirical quiz 'Have I Got News For You' on May 28.

He mentioned Ilfracombe as a venue in the Olympic torch relay, but mispronounced its name, drawing a remark from panellist Charlie Brooker that it sounded "deeply sexual".

Shatner went on to ask the panellists whether they had ever been, before adding: "The place is laced with prostitution."…

After hearing that some residents were angered by the off-the-cuff remark, Paul Crabb, a town councillor, wrote to Shatner via his agent and manager, inviting him to the town…

In an email sent to Mr Crabb and signed 'Bill', Shatner responded that prostitution "commonly means sex for something of value".

He said: "I would be hard pressed to believe that sex was not being had in Ilfracombe for something of value, perhaps a lengthy marriage, children or a valuable career.

"In any event, my apologies for having singled out Ilfracombe as a potential haven for prostitution. With you overseeing, I am sure that will not happen."
Shatner speaks Esperanto: