Oakland Cop Shoots, Kills High School Senior; Nothing to See Here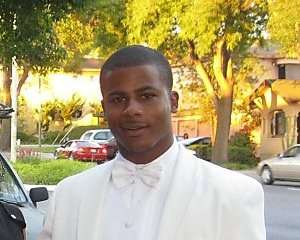 An Oakland cop shot a fleeing high school senior three times, killing the teenager while shooting himself in the foot. Oakland police claim they saw a hidden gun on 18-year-old Alan Blueford's person shortly after midnight, causing them to pursue him. That's when cops say Blueford pointed a gun at one of the officers (they also say "several independent witnesses" corroborate the claim), compelling him to shoot.
Police are not releasing the name of the officer, who is on paid administrative leave, though the San Francisco Chronicle identified him as Officer Miguel Masso. A police spokesperson, meanwhile, offered to the media that Alan Blueford had been convicted of felony burglary and was on probation when shot. His father says his son was completing the community service portion of his sentencing, and speculated that his son ran away from cops because he didn't want to get into any more trouble. He says his son was in the Oakland neighborhood for the Floyd Mayweather match.
Blueford's family has retained counsel, civil rights attorney James Burris, who points out all the shots were fired by cops. The family also claimed in a statement that their son was left to bleed to death, and that Blueford's friends were detained for six hours following the incident. The family says it was informed of their son's death at the hands of cops not by the police department but from one of Blueford's friends after he was released. The family also points out that the original police version claimed an exchange of gunfire. Investigators say the gun recovered at the scene had not been shot.