Cops May Throw Wet Blanket on Nude Maid Service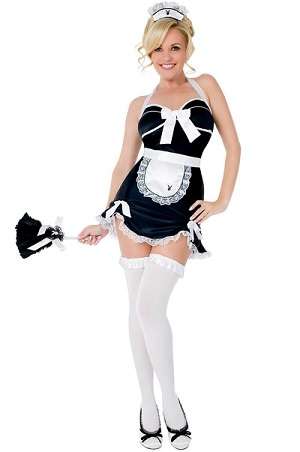 A 26-year old single mom in Texas decided she'd kick-start her own economic recovery last month, starting the Lubbock Fantasy Maid Service, a housekeeping service with nude maids. The New York Daily News reports:
[Melissa Borrett said] she came up with the idea while working as a waitress at a local strip club, where she couldn't find enough work and wasn't thrilled with the management, whom she described as "chauvinistic."
"I had heard of this kind of service being available in other cities," Borrett said. "So I started the service in Lubbock, where I would have no competition so I figured it (would do well)."
Unfortunately, there's no competition for Borrett and her business in Lubbock because local law enforcement doesn't look kindly on it. In fact, they consider the service a sexually-oriented business. KCBD reports:
Lubbock Police Sergeant Jonathan Stewart disagrees. He says this is considered a sexually oriented business, and that requires a permit to operate in the city limits. Lubbock Fantasy Maid Service does not have one, so Stewart says they cannot operate.
"Just the fact employees are topless or semi nude in this case—it's just not allowed," Stewart said.
The Lubbock Fantasy Maid Service insists on its website it is not a sexually oriented business:
Lubbock Fantasy Maid Service is a maid service. While we do offer nude maid service, this is not a sexually oriented business. At no time may a client ever make physical contact with the maid. A maid may accept tips, however if a maid accepts tips for physical contact, she will be terminated immediately and the customer will not be able to schedule services with Lubbock Fantasy Maid Service again.
Why does it matter if Borrett's is a sexually oriented business? Because sexually oriented businesses requires a permit in Lubbock, and prices vary. From the webpage for the city's business permits:
The fees are in direct proportion to the funds that your business type may receive … Not all costs are published online, therefore, it is recommended that you speak with a representative of the City of Lubbock for an projected estimate.
There is no "plain English" definition of a sexually oriented business for any resident of Lubbock that might be interested in starting one, but it is defined by ordinance:
Sexually oriented business shall mean and include any commercial venture whose operations on any calendar day include: The providing, featuring or offering of one or more employees or entertainment personnel who appear while in a state of nudity, semi-nude or simulated nudity and provide live performances or entertainment intended to provide sexual stimulation or sexual gratification to customers and which is offered as a feature of a primary business activity of the venture; or, the providing, featuring or offering, as a "primary business activity," as defined herein of nonlive, sexually-explicit entertainment materials, or items for sale or rental to customers, or the providing or offering of a service or exhibition of materials or items which are intended to provide sexual stimulation or sexual gratification to its customers, said materials, items or services being distinguished by or characterized by an emphasis on subject matter depicting, describing or relating to "specified sexual activities" and/or "specified anatomical areas."
The penalty for running a sexually oriented business is $2,000, per day. We'll wait to see if the Lubbock Police Department feels Borrett's business is sexually oriented. She even offers law enforcement a discount, so maybe they can go see for themselves.