Lady Trouble, Wal-Mart's Anschluss, and the Gassing of the Economy: Tim Cavanaugh on PJTV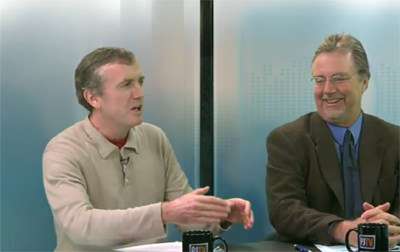 I appeared a few days ago on PJTV's Front Page with Allen Barton.
Now on VHS cassette only: Barton, Investor's Business Daily's Terry Jones and I figure out why stagflation sucks, how Wal-Mart derangement syndrome is changing our nation, and what women want.
Also available on YouTube.
Topics:
More and more children are being born to unmarried women. Is it welfare, economic empowerment, the decline of men, the changing of social mores? Who better to discuss it all than three men who don't agree on how to pronounce mores?
The price of gas is up. The price of food is up. The price of dinner and a movie is up. The price of hiring somebody is up. And unemployment is up. How does Keynesian central planning get such awesome results?
Wal-Mart: Threat or menace? Bully of Bentonville or Beast of Bargain-Basement Prices? Ravisher of the innocent or destroyer of the American way of life?