Rick Santorum Does Not Know Drug Offenders Have Families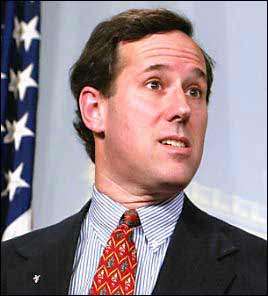 Yesterday in Concord, New Hampshire, a member of Students for Sensible Drug Policy (SSDP) asked Rick Santorum, "As a champion of family values and keeping America strong, would you continue to destroy families by sending nonviolent drug offenders to prison?" Santorum's response: "Uh…wow…the federal government doesn't do that." That will come as a surprise to the nearly 100,000 drug offenders in federal prison, who account for almost half of all inmates. (Another 400,000 or so are in state prisons and local jails.) Does Santorum think only violent drug offenders go to federal prison? There is no such requirement. In my October Reason story about President Obama's drug policies, I noted a few examples that fit SSDP's description:
Last year a federal prisoner named Hamedah Hasan, who is seeking clemency with help from the American Civil Liberties Union (ACLU), wrote an open letter to Obama. "I am a mother and grandmother serving my 17th year of a 27-year federal prison sentence for a first time, nonviolent crack cocaine offense," she said. "I never used or sold drugs, but I was convicted under conspiracy laws for participating in a drug organization by running errands and wiring money. Had I been convicted of a powder cocaine offense, I would be home with my three daughters and two grandchildren by now. I have had a lot of time to think about where I went wrong, and I genuinely take full responsibility for my actions. But I hope you will see that over 16 years in prison is enough time for me to pay my debt to society."

Another crack offender, Kenneth Harvey, is serving a life sentence for possession of more than 50 grams with intent to deliver, a crime he committed in his early 20s. Although legally required to send Harvey away for life because of two prior drug convictions (neither of which resulted in prison time), the judge who sentenced him recommended that he be granted clemency after 15 years, and an appeals court agreed. Yet Harvey, now 45, has been in prison for more than two decades….

Clarence Aaron, arrested when he was a student at Southern University in Baton Rouge with no criminal record, is serving three consecutive life sentences without the possibility of parole for arranging a meeting between a childhood friend and a cocaine dealer. He has been behind bars since 1993.
Last November, in his first commutation, Obama shortened the sentence of Eugenia Jennings, an Illinois woman who was convicted in 2001 of selling 13.9 grams of crack to a police informant, from 22 years to 10. Families Against Mandatory Minimums and the November Coalition have many more examples.
Santorum, who as a Pennsylvania senator in 1999 voted to increase federal penalties for cocaine and methamphetamine offenses, surely is aware that the laws Congress passes put people behind bars, breaking up their families in the process. Instead of forthrightly defending that result as an acceptable cost of trying to prevent Americans from consuming certain intoxicants, he pretends no real humans are hurt in the service of this never-ending, never-succeeding chemical crusade. Despicable.
For more about nonviolent drug offenders, see my 1999 Reason article about criminologist John DiIulio's evolving views on the subject.