Newt Weeps; Samoa Leaps; Hollywood Burns, and More: P.M. Links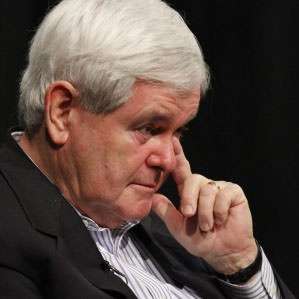 Newt's best friend was his mother: Republican presidential candidate Newt Gingrich drops tears as fast as the Arabian trees their medicinable gum while discussing his late mother to an audience of girls womyn in Des Moines, Iowa. "I think it was honest," audience member Toni Shivers tells the Des Moines Register. "It didn't seem phony or part of an act at all."
More fallout from Samoan calendar change: Tiny Pacific nation moves to the far side of the International Date Line, raising disturbing questions: Is it good for the Jews? Does the trading-driven decision mean those sneaky Samoans are plotting to take American jobs to China and Australiastan and New Zealandia? Why isn't President Obama doing something to prevent this? Isn't Samoa on a commemorative quarter or something?
Burn, Hollywood, burn: L.A. Fire Department says arsonist set 19 fires between Vine Street and West Hollywood overnight.
Froggy, get a-courtin': Katy Perry is back in the secondary market.
Facebook traffic is up 30 percent since 2009. Nielsen now has the social networking site at 139 million visitors for October 2011, not far behind slow-growing Google, at 155 million. Yahoo is losing traffic. Most of Facebook's growth appears to have happened in 2010, not 2011.
End of the world begins in two days, and all the NYPD can do is deploy more mounted cops?
Happy New Year.
Do you want hot links and other Reason goodies delivered to your inbox twice a day? Sign up here for Reason's morning and afternoon news updates.