Awful Obama Poll Numbers; New Penn State Charges; New Fannie/Freddie Charges; Barry Bonds Sentenced: PM Links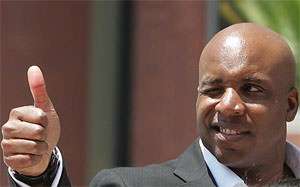 Obama Disapproved: A new AP/GFK poll finds majority of Americans do not want to see President Obama re-elected. Small minority of people who like Obamacare is getting even smaller. On the bright side, Obama still matches up well with most Republican frontrunners – though not with this hand-painted anti-Obama sign.
Penn State perjury: Tim Curley and Gary Schultz charged with perjury and failing to report an alleged 2002 sexual assault in connection with the Jerry Sandusky child sex abuse allegations.
Fannie and Freddie fraud: Former Fannie Mae CEO Daniel Mudd and former Freddie Mac CEO Richard Syron have been charged with fraud in connection with the GSEs' creation of the mortgage crisis and concealment of questionable loans.
Another Paul rises: The Clippers fan[s] I know are mad about how much the team traded for Chris Paul, but the deal has already paid off in sold-out season tickets.
More signs the economy is faltering. Calculated Risk reports that incoming and outgoing traffic continues to decline at the Port of Los Angeles, the nation's busiest container port. On the other side of the country, the busted Zynga IPO depresses hopes for a robust stock market in 2012.
Barry Bonds railroading ends in light sentence. The performance-enhanced former Giant gets 30 days of home confinement and two years of probation. "The light sentence raises questions about the value of the investigation, the work of the prosecutors, and the effect of the outcome on Bonds' legacy," says ESPN.