Renton Police Drop Cyberstalking Investigation of Cartoon Creator, Pursue Harassment Claim Instead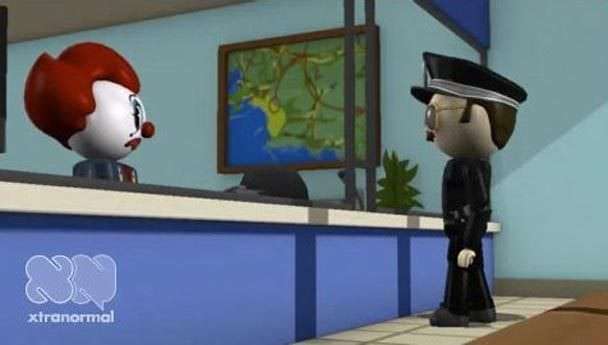 Mr. Fuddlesticks, the pseudonymous creator of YouTube cartoons mocking the Renton, Washington, police department, no longer faces a "cyberstalking" investigation. In early August, KOMO KIRO, the CBS affiliate in Seattle, reported that King County Superior Court Judge James Cayce had approved a search warrant demanding information about Mr. Fuddlesticks from Google, which owns YouTube. After a local attorney challenged the warrant on First Amendment grounds, Cayce scheduled a hearing on the matter, imposing a stay in the meantime. Suddenly the Renton police lost interest in the warrant, saying "there has been no relevant information that we have uncovered to date on the cyberstalking case to further a criminal investigation."
That does not mean Mr. Fuddlesticks, a cop who created the videos with help from the animation site Xtranormal, is off the hook. Chief Administrative Officer Jay Covington says the cartoons, which refer to cops' sexual relationships but never actually mention Renton or name any officers, may amount to "harassment and discrimination," creating a "hostile work environment." For instance, Mr. Fuddlesticks alludes to an internal affairs investigation of Deputy Chief Tim Troxel, who was docked a day's pay for asking an on-duty officer to stake out the home of a girlfriend he suspected of cheating on him.
Meanwhile, Police Chief Kevin Milosevich has disciplined Sgt. Bill Judd and Deputy Police Chief Charles Marsalisi for their role in an Xtranormal video making fun of a new regional jail. Milosevich said Judd created the cartoon (which according to The Seattle Times was not part of Mr. Fuddlesticks' oeuvre), while Marsalisi advised him on how to post it anonymously. Because the video "deliberately distorted and exaggerated the jail's operations" and implied that its personnel (represented by a clown) are "incompetent" and "ignorant," Judd and Marsalisi were demoted to officer and sergeant, respectively.
Both Judd and Mr. Fuddlesticks (in his cartoons) argue that their parodies are constitutionally protected speech. No way, Covington says. "Let me also assure you that this does not have anything to do with violating first amendment rights," he declares. "We are committed to protecting free speech and the rights of any individual to express their opinions."