Bloomberg: Do As I Say, Not As I Did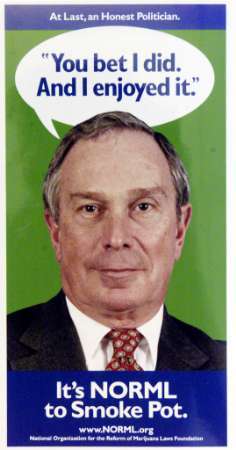 Speaking of marijuana arrests, the Drug Policy Alliance recently released numbers that show New York City Mayor Michael Bloomberg is not only continuing but escalating his little-noticed crackdown on pot smokers:
Over the last twenty years, NYPD has quietly made arrests for marijuana their top enforcement priority, without public acknowledgement or debate. This is the sixth year in a row with an increase in marijuana possession arrests. In 2005, there were 29,752 such arrests, and in 2010, there were 50,383, a 69 percent increase. Since Michael Bloomberg came into office in 2002, there have been 350,000 arrests for low-level marijuana offenses in NYC.

"New York has made more marijuana arrests under Bloomberg than any mayor in New York City history," said Dr. Harry Levine, a Sociology professor at Queens College and the nation's leading expert on marijuana arrests. "Bloomberg's police have arrested more people for marijuana than Mayors Koch, Dinkins, and Giuliani combined. These arrests cost tens of millions of dollars every year, and introduce tens of thousands of young people into our broken criminal justice system."
Although possession of up to 25 grams (nearly an ounce) of marijuana is a citable offense under New York law, publicly displaying marijuana is a misdemeanor. As Levine has documented, New York City police commonly trick people into taking out their pot, thereby exposing themselves to arrest. The New Yorkers nabbed this way are overwhelmingly young and black or Hispanic, reflecting the neighborhoods where police focus their "stop and frisk" efforts:
Almost 70 percent of those arrested are younger than 30 years old. 86 percent of those arrested are Black or Latino, even though research consistently shows that young whites use marijuana at higher rates.
Levine has found similar patterns in California. Pot busts were the most common kind of arrest in New York last year, accounting for 15 percent of the total. The Drug Policy Alliance says New York police arrested an average of 140 people a day for pot possession in 2010, making their city the "Marijuana Arrest Capital of the World."
In a 2008 Reason article, I noted that the risk of getting arrested for smoking pot, though still small, has roughly doubled since 1990.