Wind Turbines Are Beautiful
...but a tad expensive.
Judith Gap, Montana—Sleek modern wind turbines are beautiful. Even their low pitched whooshing is soothing. At the first stop on my crosscountry roadtrip to check out a variety of energy production facilities, I was shown around the Judith Gap Wind farm by on-site manager John Bacon. Judith Gap's 90 graceful wind turbines have the capacity to produce 135 megawatts of electricity when the wind is blowing just right. The $180 million facility was built by privately-owned Chicago-based Ivenergy and has been operating since 2005. The wind farm supplies electricity to meet local electrical utility NorthWestern Energy's state-mandated 10 percent renewable energy obligation. That renewable energy requirement is going up to 15 percent by 2015.
Montana's current wind energy capacity now stands at 375 megawatts out of an overall electric generation capacity of 5,445 megawatts, of which 60 percent is coal-fired, and 30 percent is hydroelectric. Encouraged by favorable weather conditions and tempting federal subsidies, local politicians such as Gov. Brian Schweitzer (D) are eager to push the development of wind power in Montana.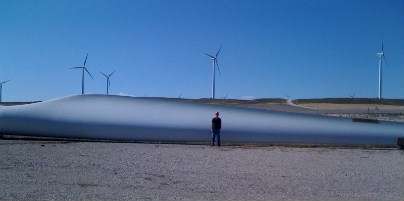 The imposing white towers at Judith Gap rise from 8,300 acres of barley fields and pasture land in Wheatland County, Montana. During my visit a small herd of antelope were grazing underneath the spinning blades. The land is leased from five landowners and lease payments vary from $2,000 to $5,000 per year per turbine depending on just how much electricity is generated. Each windmill is 260 feet tall and the fiberglass turbine blades measure 122 feet long and three together weigh around 36 tons. The turbines were built by General Electric, the blades by a Brazilian company, and the steel towers were sourced from around the world including China and Korea.
Bacon said that the Judith Gap wind farm delivers electricity to its sole customer, NorthWestern Energy, at a remarkably low rate of about 3 cents per kilowatt-hour, not including the 2 cents per kilowatt-hour federal production tax credit. According to Bacon, hydroelectric facilities in the region deliver electricity to distribution utilities at about 2 cents per kilowatt-hour.
But according to the U.S. Department of Energy's Energy Information Administration (EIA), if one includes all the capital, operating, and fuel costs, electricity from wind still costs about 50 percent more than conventional coal and 100 percent more than natural gas. Proponents point out that the costs of turbines are coming down, but the costs for the considerable infrastructure needed to manage wind are still daunting.

The wind, even at as favorable a site as Judith Gap, doesn't always blow, so the facility produces power at about 38 percent of its actual capacity, or roughly about 51 megawatt-hours of electricity on average. This is actually well above the industry average. Fickle winds make supply management challenging. For example, according to NorthWestern Energy, the Judith Gap facility has ramped up from zero to 131 megawatts in 10 minutes and has ramped down from 121 megawatts to zero in a similar time period. The equipment is reliable—after five years of operation, Bacon notes that the turbines rarely break down; they are available 98 percent of the time to generate electricity. Their operational life is 20 years, but Bacon expects that they will actually continue to work for more than 40 years. But reliable equipment isn't enough to bring prices down to competitive levels.
There are engineering solutions to these rapid swings in wind energy production, but they are costly. For example, NorthWestern Energy is proposing to build a new 200 megawatt natural gas power plant in Mill Creek, Montana, at a cost of $206 million, "primarily to provide balancing services [PDF] for wind farms." An even more ambitious green proposal for balancing wind energy production oscillations is the $3 billion Wind Spirit Project by Grasslands Renewable Energy which would string a series of high voltage power lines across the state as a way to shift wind energy from regions where the wind is blowing to becalmed districts. Right now the wind power produced in Montana stays in Montana. Such a system of transmission lines would also make it possible for future Montana wind farms to export power to out-of-state big cities.
Grasslands Renewable Energy is proposing to build a 350 megawatt closed-loop pumped storage hydro project near Gordon Butte in central Montana. The idea is that water would be pumped to an uphill reservoir when wind electricity is cheap (mostly at night) and then allowed to flow downhill to another reservoir through turbines to produce electricity when the wind falters or demand peaks. Pumped storage functions as a kind of giant battery. Grasslands has not offered separate cost figures for the Gordon Butte project, but a recent report by the market research firm, Richard K. Miller & Associates, notes that typically pumped storage projects cost about $1,800 per kilowatt to build [PDF]. That would mean that the 350 megawatt Gordon Butte facility could cost about $630 million to build. In contrast, one might double the size of the Mill Creek natural gas power plant and just run it all the time.

The Department of Energy projects that wind power production capacity will more than double by 2014 fueled by federal tax subsidies, economic recovery stimulus spending, and state renewable energy mandates. This means that thousands more gleaming stately spinning towers will soon rise above the amber waves of grain in the heartland of America. Beautiful, but costly.
Note: I am traveling back to the East Coast over the next couple of weeks from a summer in Montana spent working on a new book. Along the way I am visiting various energy production facilities. The goal of this circuitous trip is for me to get a better understanding of energy production and to geek out on technological marvels. Today's photo is of me standing in front of a wind turbine blade that had been struck by lightning.

Ronald Bailey is Reason's science correspondent. His book Liberation Biology: The Scientific and Moral Case for the Biotech Revolution is now available from Prometheus Books.